Maybe I should change my blog title to "Prairie Girl spends most of her time at the sewing machine these days". Sadly I've not had much time for knitting over the last few days, so my Josephine is going pretty slowly. I do have five inches done though, so I guess all hope is not lost! I really hope that this turns out nicely - I love it so far!
But yes. Sewing. I've done a whole lot of it lately and there's more to come in the next few weeks! Knitting is definatly going to have to take, if not the back seat, at least the passenger seat to my sewing.
But before I get into the nitty gritty of pattern making and mass producing the dresses for the dance group , (thank the gods of costuming who have benevolently decided to have me make only 12 outfits this time rather than the 32 of last year!), I'd like to show you a few finished projects.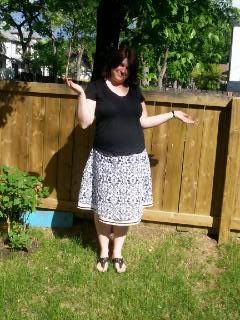 First up - I finished it just yesterday, is my skirt. I love it. LOVE IT!!!!! It fits perfectly and is super cool and comfy for the heat of summer. I think it's purdy too. Although given that I don't have a full length mirror and G wasn't home this morning to give me fashion advice I was a little nervous walking into work today. I was trying to get a glimpse in the window of the recieving dock area as I came in, but they were positioned just a little too high for a good view and hopping up and down I figured would just make me look like more of a nutbar than I already do well enough on my own. Anyways - I'm well pleased with myself, if you will allow me a moment to toot my own horn - I've had loads of compliments on it today!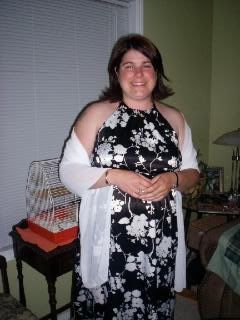 I also managed to fix up the Hunch Back of Notre Dame dress. A 2 1/2 inch dart on either side of center back took care of that. I now like this dress too. And thankfully finished it on time! I have to wear it for the wedding tonight. (Nothing like cutting things close to the wire, eh?)
Now, dear readers... here is my very, very, very favourite project of the week. I really want to keep this all for myself, but alas I must not. It is destined for my Mommy's birthday basket of knitting goodies! I made this needle roll this morning before going to work. (You'd be amazed at what you can accomplish by being up and dressed for work by 5:30 am!!! I also made the chiffon shawl for the fancy dress this morning before work too - ok. Making it might be an exageration perhaps seeing as how it's just a strip of chiffon that I serged around the edges, but still. Made me feel productive!) But back to the needle roll. I think it's my best one yet, which is good that I'm improving on them given this is the fourth one I've done! So without further delay... here is my latest needle roll.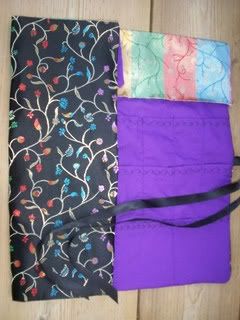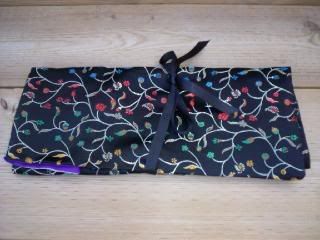 I hope you like it, Mom!!!
Well... I'm off to a late night at the WAG for (BF)G's stepbrother's wedding. I'm a little disgruntled that they are cutting into my weekly knit night on my couch, but I suppose I'll get over it eventually. Happy Friday all!