I have a new cardigan and I absolutely love it. It's probably my number one favourite knit so far this year (and just for reference, I've knit 28 projects to date in 2013, so that's saying something!)
Hetty
by designer Andi Satterlund is a sweet little retro vibe cardi - slightly cropped, fitted, with an all over lace pattern. I modified mine to be slightly less fitted and slightly longer, which was so simple to do as you switch from lace to stockinette as you do the shaping, so there's nothing complicated to figure out.
I have been hoarding some Arucania Nature Wool in my stash for over three years now. It was one of the treasures I received from my dear friend, Kristy's mom's stash. It also happens to be one of my favourite colours! I gave been waiting for the right pattern to come along and as soon as I saw Hetty I knew that it was the one.
Timing was perfect too. Luvinthemommyhood's Summer Sweater KAL was still in full swing and just before it was scheduled to finish Andi's Ravelry group, Untangling Knots was going to be kicking off a knit along specifically for Hetty. I love knitting as part of a KAL, it really motivates me to keep going. Although, with Hetty I didn't really want to put it down anyways. It was a totally unique construction from any other thing I've knit. Top down with sleeves attached by picking up stitches and then doing short rows to form the cap. (I'll admit it made me feel brilliant when I mastered those short rows I've been so intimidated by!)
I finished it on Friday morning and it got a bath in Euclan then blocked and was ready to wear to my dinner date with my sisters last night.
Swatching - actually got gauge first time around!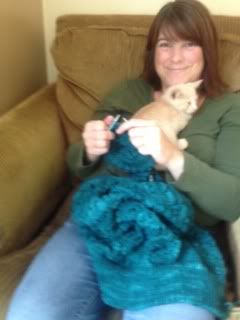 Trying to knit... with help -
Little Man took this photo the other day
Splish Splash getting a bath!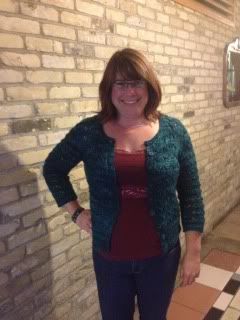 All Done!!! I love it!!!!!
Love the fit of my Hetty!