Well, let me just say that I am one lucky lady! Once again I've been given a wonderful generous swap partner. This time it was
Roe
for the
Spring Fling Coffee and Yarn Swap
. I got the card in the mailbox on Friday night, but of course wasn't around when the post office was open to go pick it up. That is, until yesterday. On a day where I truly felt like one of those little cartoon characters who walk around with a thunder cloud over their head. Boy was I in need of cheering up, and Roe's parcel was just the thing to do it!
I didn't get a chance to open my parcel until well into the evening. After meeting with my lawyer, after meeting with a real estate agent (both appointments serving to make me crankier by the minute by the way) I finally could dive into the heavy box sent from New York!
I opened the box to find a treasure trove of goodies packed inside. Coffee like I've never seen before; Cinnamon, Pecan Torte, Swiss Chocolate, and Hazelnut Cream. Treats such as chocolate covered coffee beans, biscotti, Walker's shortbread and a delectable box of chocolate "coffee cups" - I am picturing a mocha flavoured mousse in those! Then there were the mugs. Yes. I said mugs. A fantastic New York mug and then a great (it's purple... how could it not be great?) travel mug that has a filter that attaches so I can make coffee on the go. Oh and I can't forget the bath type stuff (for lack of a better category). Two summery lip balms, a coffee bath bomb and then the prettiest soaps ever - made by Roe herself I may add! Roe also sent me two skeins of Koigu - I lurve Koigu - and a skein of Vicki Howell's "Love" bamboo yarn, which is as soft as butter! She also included some patterns; Pomatomous - too funny given I've been itching to make that one as of late - another sock pattern that looks great and then a tulip patterned cloth. (Roe - you've noticed my love of tulips I see!)
So a HUGE thank you goes out to Roe for sending me a fantastic Coffee Swap parcel. Roe - you are a swapper extraordinaire!
In knitting news, I finished my purple Artichoke socks last Friday. I've just not been near the computer long enough to post the picture of them! I really like them - the fit is great and the pattern was so quick and easy. They only took a week to knit the pair. What more could a girl ask for?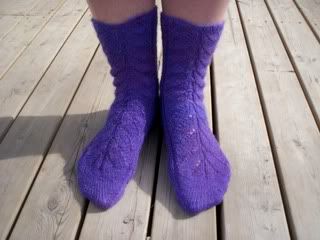 I also did some work on my sleeves of my Gathered Pullover. A very little bit. I'm feeling somewhat guilty, because instead of staying strong and resisting the urge to start another project, I quickly put aside the sleeves of greyness for something light and summery. I fell victim to my Jade Bamboo and the Josephine Top pattern from last summer's Interweave Knits. I wasn't going to, but Saturday was so sunny and warm, it kept calling to me and I couldn't hold out any longer!
On the sewing front (you'll remember I was all talk not too long ago about the fact that I was going to get sewing like a fiend?) well - it hit a snag. My machine was on it's last legs. It was on death's doorstep. It would hardly go at all. Old faithful friend of 18 years, it just was too tired to continue. So - I retired it and bought a new one. Just a plain, simple Singer machine. Nothing fancy, no bells, no whistles. But hopefully it will last me as long as my last Singer did. 18 years of hard work and overuse is nothing to be sneezed at. However, new machines make me nervous. You have to get to know them, learn their quirks, settle into a relationship with them. And I've not had the right frame of mind to do so yet. So my sewing has sat untouched for days now. Maybe this weekend. We'll see.