Well, my "bus-knitting" project is finally done! I am pleased to present to you, my Party Lace Scarf knit in Rowan Kid Silk Haze (wonderfully provided to me by Duchess!)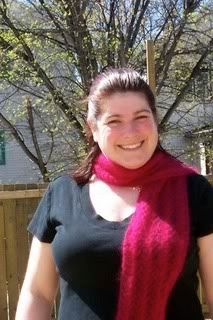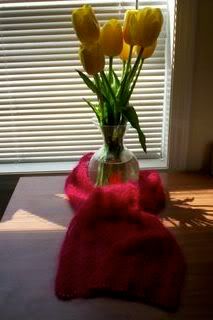 The pictures aren't that great - my camera just doesn't do a good job of picking up detail, but I kind of liked the soft feel that the picture with the flowers had and then thought at least you might be able to see some detail on the picture of me wearing it. Thanks to N for taking the picture of me! I dragged him outside, away from the TV while he was still in his PJs to be my photographer!
The talented Duchess also sent me another lovely skein of yarn in the mail the other day. It's her own handspun merino and it's gorgeous and has now inspired a mad search for a drop spindle for myself. I've been toying with the idea for a bit now, but after seeing this lovely skein, I've decided I want to try this new skill for myself. No where in Winnipeg seems to have them though, and shipping through ebay makes it so much more expensive, so not to be deterred, I've scouted out the instructions to make one for myself and am going to try and hit Michaels this afternoon for a toy car wheel, then it will be off to Rona for a cup hook and dowel. I am convinced I can do this! Anyways, without further adieu, here's the skein of yarn in question: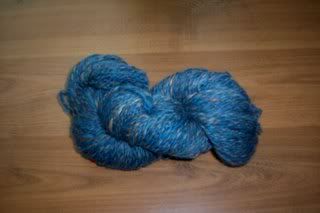 Clapotis is going really well, although I've set it aside this weekend to work on the spa set in the 101 One Skein book. (can't remember the exact title right at the moment.) I'm knitting it out of Jade Bamboo. I like the feel of the bamboo. It's soft and has a lovely drapy feel to it. I also learned how to crochet this week. My friend Kathi from work has generously offered to teach me! I finished learning the single and double crochet while making a dish cloth the other day. I had bought the newest Interweave Crochet magazine two weeks ago and decided I really need to have someone show me the intricacies of crocheting. I do have the "Happy Hooker", which is great, but somehow I learn better by watching someone actually do it. Well, it's just too beautiful to be cooped up inside so I'm off to enjoy the warmth and sunshine outside!