Since I showed you the knitting portion of my holiday crafting yesterday, I thought today I would do a round up of the sewing!
I took leave of my senses sometime in early October and decided I just
had
to sew each of the little nieces pjs and matching doll pjs. Now, if I'd acted on this notion right away I would've been in good shape come Christmas time. However one thing led to another which led to another, which led me to not even buying fabric until December. Now, I've had to come to accept the fact that sewing when Baby Boy and Little Toddler Man are awake is just not a wise idea. There are just far too many interesting things for toddlers to do down in the basement, none of which include playing with the toys that reside in my sewing area. It's hard to sew and keep toddlers out of trouble at the same time. Unfortunately, once the toddlers went to bed I was so tired that I often followed close behind them into the Land of Nod, which was equally as detrimental to progress. Eventually, the week before Christmas I was able to start. (BF)G's first day of holidays I woke up, said good morning and hightailed it downstairs by 7am to start sewing. I was like a woman possessed. Sanity was left in shreds, but progress was made and by 10:30pm, December 23rd, all gift sewing was DONE!
Flannel Nightgown 1
Flannel Nightgown 2
I used a vintage nightgown pattern and modified a remake of a vintage Simplicity
Pattern for two of the nieces' nightgowns and matching doll nightgowns. I think the girls were happy despite the fact both nightgowns turned out much bigger than intended. Both little girls donned their nighties shortly after opening them on Christmas eve and proceeded to wear them the rest of the evening. It really made all the last minute sewing frenzy worth it!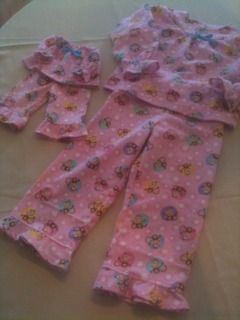 Flannel PJs 1
Flannel PJs 2
Waldorf Style Pocket Doll
I used a new pattern for the other two little nieces pjs - its the same pattern I used back in the fall for the Two Year Old Birthday Swap present. It's a fun little pattern. The only thing I modified was to do a button with an elastic loop rather than buttonholes. The pjs for dolly were modified slightly from the remade vintage Simplicity Pattern to match and the Waldorf Style Pocket Doll was from a tutorial on the
Bamboletta
website. I hear from my sister that my niece loved her monkey pjs so much she just finally got her out of them yesterday to go out. Glad to hear they were so well received. The little two year old niece who got the doll with her jammies seemed pretty pleased with her "baby" on Christmas eve, giving it lots of love when she opened it.
I really had fun making the doll. I bought a needle felting needle last time I was at my LYS and thought I'd give the needle felting method a whirl for making the head. It was amazing! It makes such a nice firm, cohesive inner core for the head, and the puncture wounds I gave myself during my learning curve have all healed now so I can look fondly on this method and say without hesitation that all Waldorf style heads made by me in the future will be aided by a needle felting needle (and perhaps some protective gear for my hands...). I suspect I will be making more of these little pocket dolls in the future. I have several baby gifts needing to be made (the baby boom continues all around me it would seem) and both Baby Boy and LTM were quite enamored with it as well. I have to give kudos to (BF)G on the suggestion of the ribbon bow. It took the doll from being Plain Jane ordinary to super cute I think! He comes up with some pretty good suggestions. It's why I keep him around. Or at least partly why anyways. ;)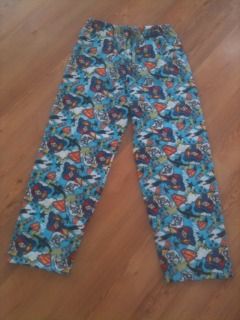 Superman PJ Pants
I dragged N with me the day I went shopping for flannel and while there he saw the superman print and hinted broadly that he'd like a pair of pjs out of it. So, my next trip to the fabric store included a couple of metres just for him! He was happily wearing them when he left on Christmas morning to go back to the city so I'm going to say they were a success. (although clearly he missed lesson #552 when growing up. Pjs are for at home. Not out and about! Even if a bajillion teenagers and far too many adults would disagree with me...)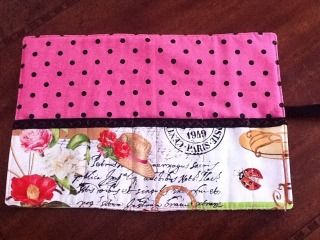 Inside view of make up roll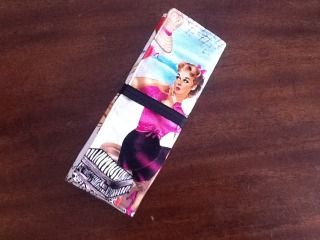 Outside view of make up roll
G, as I mentioned yesterday, makes gift making and giving so easy! I saw a
tutorial
online for a makeup roll and had found the perfect fabric for it. To top it off make up brushes were on her wish list. What better way to make a nice little gift?! And really, what says glamour better than 1940s Paris? I modified the tutorial ever so slightly doing a plush binding along the top of the pocket and an elastic wrap around closure using a satin finished narrow FOE (fold over elastic).
Sleep Mask and Flax Heat Pad
Using the same "glamourous" fabrics I made a flax heat pad and sleep mask for my 17 year old niece who often muses on Facebook that she wishes she had a weekend to just relax. I wanted to put together a "relaxation in a box" gift for her. I used a tutorial from
Sew4Home
for the sleep mask.
Earbud Cases
Last but not least, J had complained to me a while ago that he was always getting his headphones tangled in his pocket so I thought I'd make some funky cases for him and N to store their earbuds in. Unfortunately due to trying to sew with toddlers afoot, they're not as perfectly round as I would have liked them. Apparently, when sewing a circle it's a good idea to look at the seam you are stitching rather than continuing to sew whilst repeatedly craning your head over your shoulder to ensure two toddlers hell bent on mischief are actually still in the room with you. Lessons learned.
So, that brings us to the end of the madness that was gift making for Christmas 2012! I think if I'm going to plan on such a large selection of handmade gifts for next Christmas I had better start in January. I won't of course (start that is), but I should.