I've been doing some sewing lately for the the little boys. Spring always means new pyjama time for them and this year it seemed especially important to get going on it when Little Man tried on his spring jammies and they were very much capris length instead of long pants.
I had made Baby Boy a couple pairs of bottoms from
Fishsticks Design's Pajama Party pattern
back in the winter, but hadn't got around to making tops for them. The one pair I had already decided to do the matching top, but the other pair I wasn't sure. I'd picked up the Richard Scary Busytown remnant during a buy 1 get 2 free sale before Christmas and knew there wasn't much left after the pants for any sort of top. I did entertain the notion of a tee in a matching colour, but a matching colour seemed to elusive in both fabric or store bought tee. After far too many
weeks
months of deliberation I finally settled on a simple collarless button down top (similar in style to the one Little Man is wearing in the photo) in the green that I used as contrast cuffs for the pants and used the remaining scraps of Busytown for the contrast on the top. I then had a problem choosing button colour, so went with one of each for a fun change from the usual, or as Baby Boy would say the "usable" way. (he has a few words he still says a bit muddled up).
Little Man's pjs presented a whole other issue in that a) my Fishstick's pattern only goes up to size five (and a tiny size five it seems to be or at least for my giant boys) and b) when I bought the fabric last fall, I bought 1 1/2 yards online figuring that would be plenty for him. Oooops! He's had a bit of a growth spurt in height obviously and I was hard pressed to squeeze a size six onto the fabric. Directional prints are my nemesis! Size six was not going to be nearly long enough either so hello wide cuffs! His pattern is a 1970's Simplicity pattern that has been my go to for the last twenty years or so for boys size 6-8.
Stylin' in their new PJs
Tired and not feeling like posing -
the front is similar to Little Man's digger jammies
and has one red, one yellow and one blue button.
The boys were pretty darn pleased with having new jammies for spring, but little did they know they were in for a HUGE surprise in the pyjama department! My little men are super hero obsessed. Little Man can pretty much tell you anything you want to know about any given Justice League member and then some. They both regularly, (as in 99% of the time), wear capes as a part of their normal day to day attire. Little Man often even wears his batman mask or sunglasses to preschool. Luckily he has understanding teachers that don't mind a pint sized superhero in their midst.
I had noticed on the calendar that preschool was going to be having "Super Hero Day" on the last
Wednesday in May, so I set to work. Plotting and planning all in secret. I had planned to make pyjamas that could be worn as costumes for both boys. I couldn't, after all, just make Little Man a set and leave out Baby Boy. Finding fabric proved to be challenging as it always seems to be when I have something specific in mind. Baby Boy's red and Little Man's dark green jersey came from a sale bin at Fabricland in the city, and the light green was procured via two 5xl muscle shirts from the men's section of Walmart as was the yellow (except they only had that in a 2xl - which luckily provided plenty of fabric for Baby Boy).
As an aside, I often look to the men's department when I'm in need of knit fabrics for the boys! You can get a whole lot of fabric in a 5xl! Next time you wander through a department store take a look. You never know what you'll find on the clearance table that could become your next sewing project! I recently snagged two long sleeved 5xl shirts for a grand total of $6!! Men's, by the way, are almost always quite a bit cheaper than ladies.
Anyways, back to super heroes! Covert operations went into full swing last week, the moment the boys went to bed for the night. By Tuesday night as I put the finishing touches on their costumes/pyjamas I was so excited I wasn't sure I'd be able to get to sleep. I think drawing out the symbols possibly took longer than actually sewing or stencilling them on, but it was well worth every minute I put into it. The boys were thrilled with the end result and so surprised! They wore them all day Wednesday and then I had to wash them so they could wear them to bed last night. I think their masks have come off only when they've been sleeping. I couldn't be happier!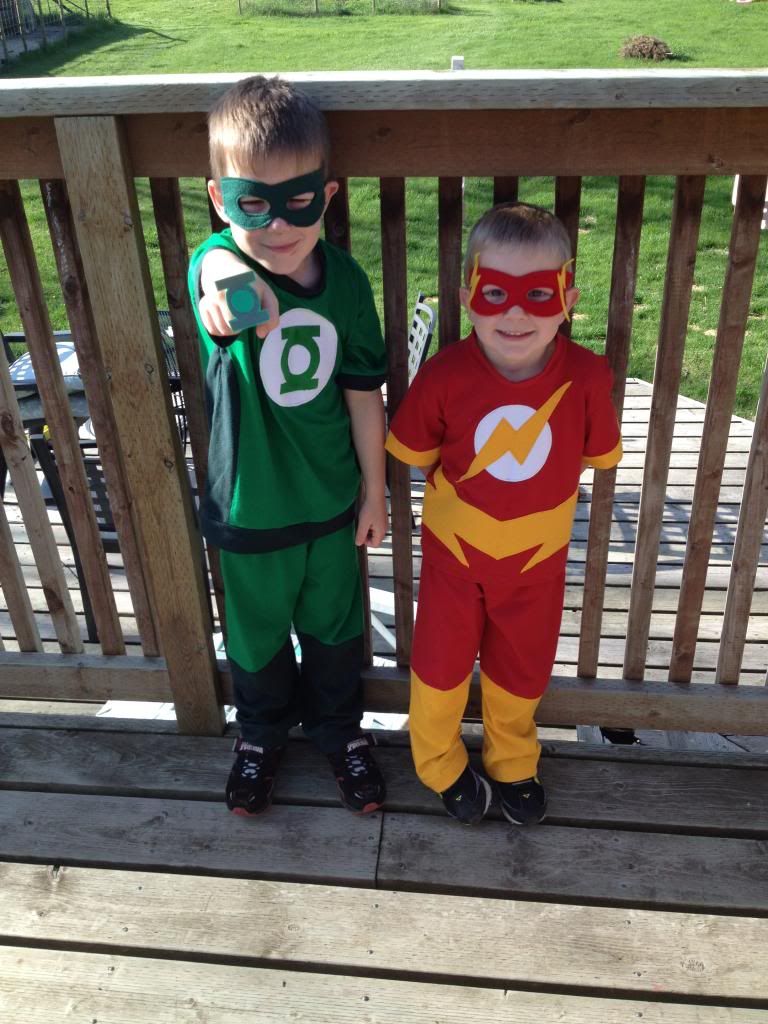 Green Lantern and The Flash all set for "Super Hero Day"
Sometimes a super hero just needs to a break from saving the world
and have a little cuddle with his kitten
… or gather dandelions
(ha! I just noticed the furry little kitten paw at the bottom of the photo)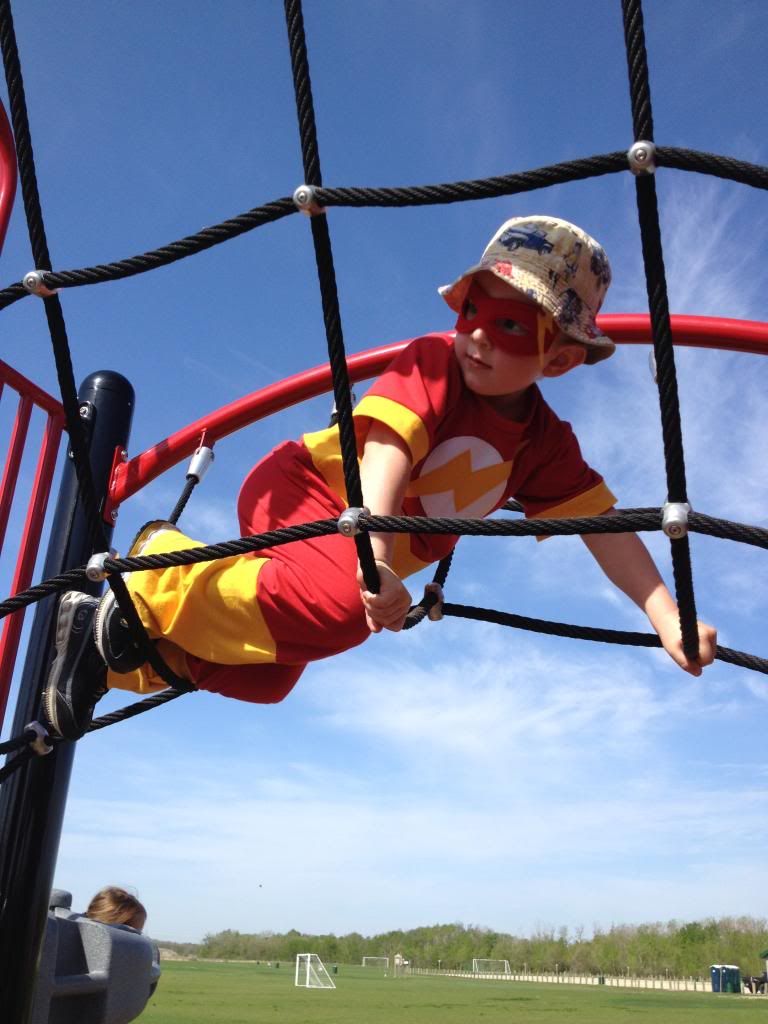 … or play at the park
I probably need to sew them a few more pairs each to have them set for the hot summer nights, but for now these will do while I take a break and do a bit of sewing for myself. I have a few
Sis Boom
patterns in the works at the moment and also want to get a few tees and skirts made for myself.