A few weeks ago I got an email from Anna over at
Charmed Liebling
. I'm always excited to see a message from her appear in my inbox. It means she's been pattern making again and needs testers. I really do love testing for Anna! She's great to work with and has fantastic designs!
This time was no different! As soon as I saw the bag I knew I would say yes, even though this time of year I'm up to my eyeballs in crafting for the holidays. But I even knew exactly what fabric combo I wanted to use, and had almost everything in my stash already. Fate, it was, I tell you. Fate.
The bag went together really quickly despite all the extra details. I love that it has so many pockets both inside and out! My favourites though are the V-shaped front slip pocket and the elasticized pocket on the inside.
My biggest challenge proved to be the rivets. Not the application of them, but the procuring of them. Agh. So frustrating! As per usual my tiny shop in town had nothing. The fabric store chain in the city had a pitiful selection, not too mention they sell a few packets of rivets but not the tools you need to apply them. Did I mention it was frustrating?
At that point, since I was on a deadline, I chose the ones I thought might work the best. I really wanted plain silver, but none were to be had so my bag's got bling. Sparkly red crystal rivets - the choices were purple, green or red. I thought the red the best option. To apply them I used a combination of my eyelet pliers, an old drum practice pad from when I was learning drumming in
402 Squadron's Pipe and Drum band
back as a teenager in the mid-eighties (using it to apply the rivets was probably the most productive use it's ever seen - goodness knows the drum lessons weren't successful!), and random bits and bobs from old eyelet and snap sets until I found one that worked. After consulting with Janelle of
Emmaline Bags
I now know that the next time I want rivets I'll go directly to
Tandy Leather
in the city, they even do online sales! But I was short on time. I should have talked to her first!
My other frustration with my bag was my fabric choice. Velvet and I have never been fond of each other, especially after the tailored velvet highland dance jacket incident of 2009, which saw me, nine months pregnant, sobbing at my machine, coming well and truly unhinged while trying to make a perfectly fitting jacket for G to wear while competing in Canadians a week later - she ended up wearing her old jacket and a borrowed kilt. That particular beast that sent me over the edge is still at the bottom of my bin of "fancy" fabric. But I digress. Suffice it to say velvet is not usually a fabric choice I make willingly. My other problem was that my wool blend has a bit of stretch to it. Gah!!!! Not a fun combination, although I like the end result. So all's well that ends well.
Anyways, here's my sophisticated wool blend and velvet bag with bling! Perfect for a night out on the town... Or at least I imagine it would be. With (BF)G's work schedule and the little boys, we're not really night out on the town people. We tend more to the hermit/homebody type truth be told, but
should
the occasion arise down the road! I will have just the handbag for it!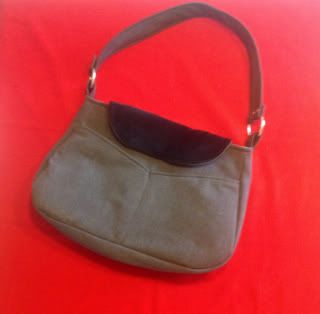 Front view - I LOVE that V slip pocket!
Back View - Another pocket!
Inside view - look at all those pockets in there!
Told you my bag has bling!
If you'd like to make yourself an
All Day Out Bag
, hop on over to Anna's site,
Charmed Liebling
. You can purchase the pattern and read more about her design on her blog!