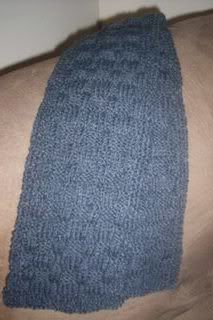 I have finished (BF)G's scarf and it turned out well! Perhaps they were satisfied by the sacrificial clapotis afterall. Although, really - how could I mess up a basketweave stitch scarf? I started the scarf on Thursday and finished it last night. I knit it to (BF)G's specifications. Not too long, no fancy pattern (I insisted on the basketweave lest I poke my eyes out with my knitting needles out of sheer boredom doing endless rows of garter or stocking stitch), and it has to be soft, but washable. It took two balls of Bernat Cashmere Natural Blends and at $4.00/ball was a bargain! I am well pleased with how it turned out. Perhaps now I can safely venture back to knitting socks and sweaters and shawls.
I also was reminded yesterday that I should be casting on for some wee hats for the
Hats for Alex
project. For more information on this very worthwhile endeavor check out the blog dedicated to it (either by clicking on Hats for Alex or the button on my sidebar). I did four hats last year I think and hope to do as many this year. I encourage you all to knit at least one, afterall, baby hats can be made from those left over balls of yarn from previous projects and take no time at all.
Well - it's off to physio and then work for me.