What a great 24 hours in the postal delivery department!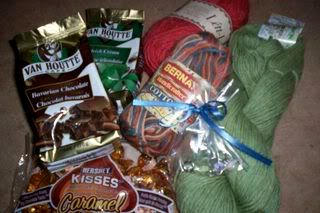 First of all... look at the lovely parcel I received from my Coffee Swap partner, Barb yesterday in the mail! Bavarian Chocolate and Irish Cream Coffee, beautiful heathered green wool, gorgeous lopi (How to describe such a rich colour...), the Bernat cotton, which you can never ever have enough of, some really sweet stitch markers (as I'm finding out these days, you can never have enough of them either!!!), and carmel kisses. I've never even seen caramel kisses. YUMMY!!!!!
Barb's parcel with coffee goodness came at the perfect time as I was frantically, madly trying to write my final philosophy essay. Right after supper I brewed a pot of the chocolate coffee and it kept me fueled well into the night as I wrote! Only about 500 or 600 words more to go give or take and then I'll be sending it off to my prof! Which means I'm only about 500-600 words away from being finished the course! Yippee! I succumbed to the call of the chocolate coffee this morning too... I'm telling you! You just can't get better than chocolate coffee first thing to start your day off right!
I'm really hoping to get Barb's parcel sent off to her this weekend! I just need to get out to the store for a few small things (ok - the coffee actually) and then it'll be ready to go!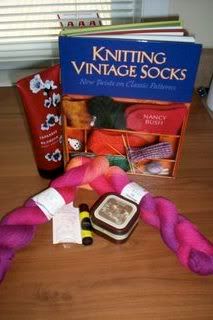 Today's post brought another parcel o'goodies for me! My wonderful Spring Fling SP sent me a treasure trove of treats! Body lotion (which is the hint as to who she is, still working on that one apparently I'm a little thick), candle, lip balm, Lorna's Laces in Bittersweet and Knitting Vintage Socks. Now, I'm sure my entire neighbourhood heard me squealing in delight. I actually was hopping up in down in the kitchen when I saw the book!! I've had my name on the list for it at the library for what seems like forever now. They haven't even taken it out of processing yet, and given the fact I'm not the first person on the list, I had lost all hope of clapping my eyes on it anytime soon... but now... I HAVE MY OWN!!!!!!!!! WHEEEEEEEEEEEEEEEE!!!!!!!! I didn't even want to take time out for supper! Of course the hunger pangs in my belly won out and I ate, but as soon as I'd cleared the plates away I grabbed a skein of the Lorna's Laces, and (BF) G's hands (he's now more than ever determined to make my swift lest he be employed as one himself again) and am ready to cast on for a new pair of socks. Now... which ones to make?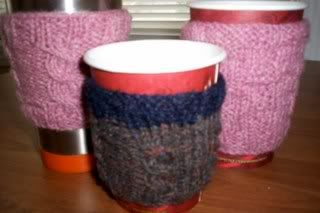 I've found a new source of entertainment on my bus ride to and from work this week, in the manner of coffee cup sleeves. I made one from the
One Skein
book, but didn't really like how it turned out, so I set to work making one of my own design. I've now made three. It's like an obsession. I must be stopped. But I figure, one for at work, one for in the car, (BF) G wanted one... what's a girl to do when there's such a demand like that???
Well... I suppose those last few paragraphs aren't going to write themselves, so I'm off to the world of Socrates and Chuang Tzu for now! Well and maybe just casting on for the new pair of socks...