Two posts in two days... what is going on here?!? Ha ha!

I just wanted to put up a super quick post about my latest FO! I have finally managed to finish up my Mr. Greenjeans. I'm happy to have it off the needles, not just because I hate having something lingering around for so long (makes me feel guilty when I start a new project) and also because in a freakish way of weather that I'm sure can't be only here on the Prairies, it's been fricken fracken freezing out there again. As in -30C and below with that wind which seems to always be whipping around out there these days. Brrr. So I was in need of a good warm cardi - have to dress in layers you know as despite the fact it's artic air outside, in the office it feels like the tropics. Layers, baby, are the answer!


Anyways... enough rambling! Here is my version of Mr. Greenjeans!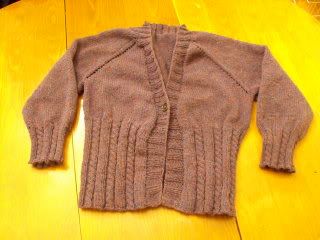 Not a very accurate show of the real colour, but I thought it showed the cables nicely!

I did a few modifications to it - really just in length - longer in the body and of course full sleeves. I used Briggs and Little Heritage in Purple Grape (gifted from Anna) for it. The yarn is a great, rustic, warm wool. Although some skeins were so "rustic" that I figured eventually I would come across not only a great many bits of straw and grass, but perhaps somewhere in there would be the whole bloomin' farm (sheep, farmer and all!), but no - just grass and straw. I did find it worth the effort though to pick out as much as I could as I went. I'm really quite happy with the final product!
And because of the great one button design of the sweater, it still fits! Even over my six month (seemingly large) pregnant belly. Although I will admit the button is pulling and will probably not do up at all by next week, but that's ok. I figure it will fit post-pregnancy quite well and that's really what counts! Because after all, it is mid-March and how much longer can winter last in this frozen place that I live in? I wasn't really expecting to get any wear out of it until fall anyways!