The little boys and I have been having some Easter fun and craftiness here!
Excited that the older kids were all going to be home this weekend, the boys decided we should do something special. So in preparation the other day they helped bake some cupcakes. We channelled our inner Martha Stewart... Ok, actually we just used her
recipe
for yellow cupcakes. I've been in search of a good one and this is definitely good.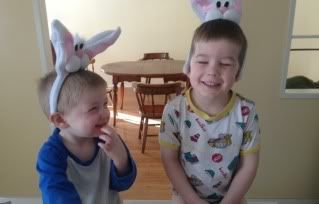 Wearing bunny ears is apparently vital to cupcake baking success...
We froze the cupcakes and I took them out and decorated them Saturday afternoon while the boys were out with Daddy. Two key points in decorating: 1)frozen is a darn sight easier to decorate than barely cool from the oven and 2)decorating sans toddler help is a darn sight easier than with toddler help. I was pretty impressed with my efforts given I usually end up frustrated, covered in icing and staring at something that resembles nothing I pictured in my head. I'm calling this endeavour a success for sure!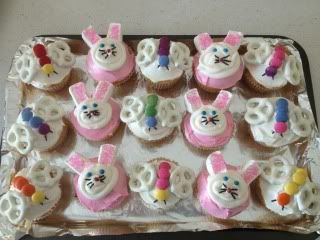 Bunnies and Butterflies Oh My!
The other thing the boys had fun doing preparing for THE VISIT was to make "Easter Bags" for J and N and their girlfriends and G and her boyfriend. We shopped for treats earlier in the week then worked on the bags on Friday. I made a simple template then cut out the shapes. LTM tried some cutting, but then somehow lost interest in cutting paper and started cutting his pajama pants instead (toddlers... I will never understand them.) so I took over cutting and let the boys be in charge of assembly. I think they turned out rather cute. They even have cotton ball tails on the back of the bag. I love that each bag is unique.
Six little bunny bags all ready to go!
Our final bit of fun was to make bunny puppets! Using the same simple template I'd made for our bags, I cut out a set of shapes for each of the boys. Instead of gluing them to bags we used large craft sticks. They had a lot of fun putting them together and drawing the little details on the faces. Once the glue all dried the little puppets proved to be a lot of fun for playing with too!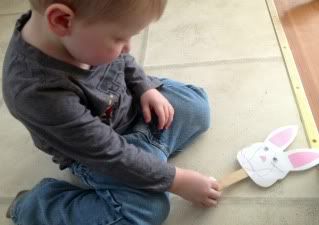 Playing with bunny!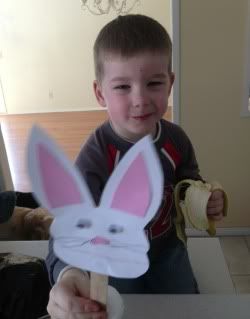 Bunny goes hop hop hop!
Lots of fun! Next up is
waffles
for brunch then start preparing for a big turkey dinner feast for tonight! I hope all of you have a wonderful day with your loved ones. Happy Easter from our home to yours!