Summer came early to the prairies this year. A mild winter was followed by an incredible spring. Which means we've been cooking on the BBQ a whole lot. One of my favourite side dishes is potato salad. Not your run of the mill potato salad that everyone grew up eating. Oh no. This is different. It is a concoction I threw together one night that has truly become our favourite potato salad. I might venture to say possibly the best potato salad going! Because I'm busily tooting my own culinary horn, I thought I might as well share my recipe. I hope you like it as much as we do!
POTATO SALAD
(Note: measurements given are approximate. I rarely measure. For the dressing start with a little of the seasonings, (maybe 1/4 tsp?) you can always add more, and any fresh veg you like should be just as tasty! Increase or decrease how many potatoes you use to make more or less. Make more dressing if you want it creamier. As written, the recipe serves 4)
Ahead of time bake 4 potatoes and cook 1/2 lb of bacon. Chill completely.
Salad: mix all together in a bowl
Cubed baked potatoes
Chopped green onion
Diced cucumber
Diced red pepper
Crumbled bacon
Finely shredded cheddar cheese
Dressing: mix together in small bowl, pour over salad and gently toss to coat (here's those approximate measurements!)
1/2 c mayo
1/4 c sour cream
1 1/2 - 2 TBSP parmesan cheese
1 1/2 - 2 TBSP grainy Dijon mustard
1 TBSP chives (I used dehydrated, but fresh would be so much tastier!)
Onion powder
Garlic salt
Dill weed
Pepper
Enjoy a fresh taste of summer!
Nom. Nom. I was going to take a photo before supper, but forgot. Sorry. I know most bloggers would have a delightfully photographed setting for you, but well, it's late, and how artful could I get with leftovers and my cel phone's camera anyways?
Update! You can't take a really mouth watering appetizing picture of potato salad. I've tried. Several times. I'll share the best one so far, but I promise it tastes a billion times better than it looks in the picture!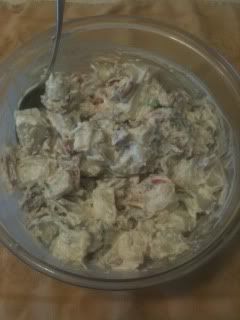 It's delicious! I promise!
In other areas of my creative side, I've finished a few projects, have a few in the works and approximately enough on my "hope to do list" to fill up the rest of time. I think I'll tell you about them another day. As I said, it's kind of late.