The majority of my crafty persuits are usually for other people. Don't get me wrong, I do love giving handmade creations to others, it's actually one of my favourite things. But occassionally a gal wants to have something new for herself. So I'm taking a bit of a time out from other projects for some "selfish knitting and sewing" that will be mine all mine!
I have been wanting to make a new purse for awhile and had planned on a spring/summer one, but when I woke up the other morning to -15C and more snow falling I said to heck with spring. I need a new winter purse. I was given
Sew Serendipity Bags
by Kay Whitt for Christmas and have had my eye on a few of the projects from the moment I opened the book. I decided the perfect bag for right now would be her Tulip Tote. Roomy, yet feminine. Just what I wanted. I dug through my fabric stash bins until I found what I wanted - some yardage of wool/poly blend suiting, a piece of leftover taffeta from a long ago project, a leftover strip of quilt batting that was just the right size. The only thing I had to purchase was drapery grommets, which the little fabric store in our nearby town surprisingly carry!
I love how the bag went together, first quilting the suiting then cutting out the pattern pieces and the bottom corners were so much easier than the way patterns normally would have you do them which usually leads to a whole lot of muttering and seam ripper usage as I can never get that "dog eared" fold to line up the seams properly the first time. This pattern instructs you to cut out a square first. Brilliant! You can see exactly what your seam is doing that way.
This project did take me a lot longer than it should have to complete, but that was mostly due to trying to sew while the boys were up and about. Minor crises such as a tumble off the piano, a sewing machine (and toddler) having a near miss fall to the floor, thread being tangled from my serger all around the room and the like hindered progress significantly. Despite all the mayhem after a few days my bag was sewn. I love it, but thought it looked a little ho hum on it's own. I was going to add a frayed fabric rosette, but really couldn't decide what fabric to use. I also couldn't find the online tutorial I had in mind, so I went a different route. I found the
Sweet & Simple Rosette
pattern on Ravelry and knit one. I'm really excited about the end result!
A project that incorporates three of my favourite things! Knitting, quilting and sewing!!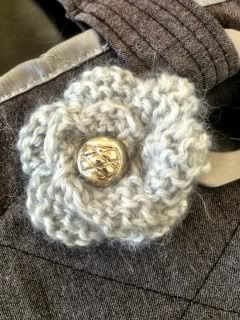 Close up of the rosette - I especially love how the random button I found in my button tin has a diamond pattern on it that matches the quilting!
After the Tulip Tote success, I decided to dive into a summer top for myself on the off chance Mother Nature doesn't forget entirely about spring and summer this year. I pulled out a length of cotton and Simplicity 2892. I figured I would do view D or E. Not having enough fabric to cut both front and back out on the fold I thought, "ha! I laugh in the face of not enough yardage!" and feeling rather smug I cut out the back adding a 1/2" seam allowance down the centre instead of cutting on the fold. My smug sense of genius lasted until the point halfway through sewing the blouse I realized I'd not cut out the back that way, but rather the front. Sigh. There went that idea. I'm partway through sewing attempt number two. We'll see how it goes without having a seam down centre front. Yeesh. Yes, folks. I am a trained professional. Somewhere I have a piece of paper that says so. You just sometimes wouldn't know I spent three years learning how to do this thing called sewing. Ha ha!
I have lots of plans for a wardrobe for our yet unseen spring. If I ever finish the Simplicity blouse, I will move onto the ever popular
Washi Dress and Tunic
from Made by Rae
My Washi fabric!
I also have plans for a
Jamie Dress
from Sis Boom.
My Jamie fabric!
I also am knitting the
Augusta Cardigan
,
Montague Vest
,
Amerind Cowl
and planning to cast on
Gemini
in a about a week and a half for the
Luvinthemommyhood KAL
. We'll see how well I do...