Well, this week was the week to check a couple more projects of the WIP list!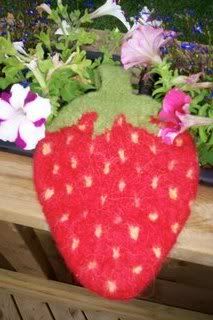 First of all, I finished my Strawberry Tote from Knit Scene. I think it's really cute, but highly impractical! Not sure who will be the recipient of it yet, but I'll figure that out eventually!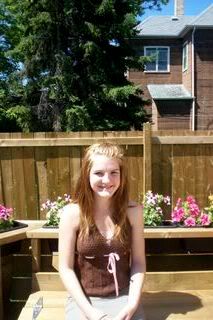 The next item on the list is the cotton tank for G. After many starts (see post from a couple weeks ago!) I finally got going on it and had it ready to be blocked actually on Monday. G loves it and I think it looks stunning on her! I added a strip of elastic along the back so that it would be a little bit tighter for her. She was worried about gaping. It the Cantata Cotton Jeans "Summer Top" pattern. I used Cantata Cotton Crepe DK (just over three skeins for the small size) and did it in the round rather than back and forth. I also made it a halter top rather than a tank top and added a row of eyelets under the bust line to accomodate a ribbon. We bought a couple different colours of ribbon so that she can change them to match her outfits. I think this might be my favourite project yet this year! I'm so happy with the outcome! :)
Still working on Samus; it is all sewn together and is just awaiting it's attached I-cord trim. Maybe this week I'll get to that! And my Clapotis is down to the final section. Only five more repeats of decreases to go, then the final little finishing off section and it'll be done! I am looking forward to getting it off the needles and onto the back of my chair in the office so when I'm chilly I can just throw it on over my shoulders and be cozy warm! (darned air blowing through the vents in that place - I tell you it's either the North Pole or the Sahara Desert in that place, there's no happy medium!!!) Best of all though has to be that I've done 19 out of 23 blouses for Ena Sutton Highland Dancers! Whoo hooo! Only four left to go, then the four shirts and YEEEEE HAW! I'm done my Folklorama sewing (or I think anyways, given the pavilion opens on Sunday. Surely they won't ask for anything else)
And for some puppy cuteness... The boys have really grown! This was taken on Friday evening. It's hard to believe they're already three months old!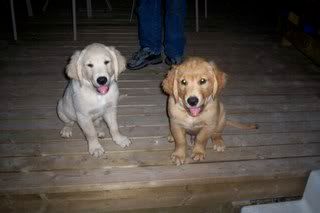 Well, I actually really want to get the last four blouses at least cut out before bed time tonight, so I should stop rambling on and get back at it! Adieu for tonight.