We've been busy getting ready for Halloween for the last few weeks! On Tuesday night, it was finally time to carve the pumpkins that the boys grew from seeds this year. They were so eager and had been asking ever since we picked them out of the garden (Ok, flower bed, truth be known, but that's where they grow the best for some reason!) when it would be time to carve them, so you can imagine the excitement in the house the day that Daddy brought them in from the breeze way and set them on the counter for carving to begin!
Carving pumpkins they grew themselves!
I had spent the last two weeks making the requested costumes. I thought I was going to get off easily again this year and be able to pull costumes from the costume bin, especially when, for weeks, Little Man told me he wanted to be a pirate. So simple. He had his pirate costume from his skating show last spring! Whoot! And then it all became so much more challenging...
He changed his mind. Only a triceratops would do. No problem! I was going to alter my much used old Butterick pattern and add a tail and quilt a chest plate, but then I pulled the pattern out set to go and found all the major pieces missing - backs and fronts and sleeves. Gone. Bad words were said. Then a friend told me about the simplicity pattern that I ended up having (BF)G pick up from the fabric store for me and life was good again. It was perfect. Pretty much what I wanted. Except for a few things. I changed up the "dino hands" from mitts to mitten covers. Years of experience tells me those costume mitts cause nothing but frustration when trick or treating. So the covers will slip easily over their mittens tonight. Also, I made the tails detachable. They have a belt that feeds through slits in the side seams and then velcro around their tummies. Pure brilliance on my behalf I thought. Not only easy for sitting en route in their car seats, but for future use. They can use the hands, hats and tails as costumes for play without me having to put on the jumpsuit, take off the jumpsuit, put on the jumpsuit, take off the jumpsuit, put on... well you get the idea. And bonus to the costume making? They counted for
Kids Clothing Week Challenge
last week - making it my most successful KCWC ever. Ha ha!!
Dinos in our field!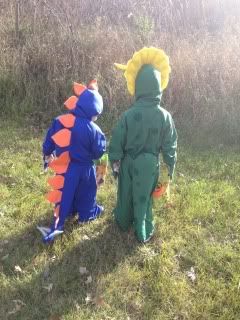 And a back view!
After the costumes were finished I had some other halloween sewing to do! When Baby Boy turned one I made all the cousins treat bags for his party using the
Fishsticks Designs tutorial.
All but the two that were still babies. So I'm catching up! I made my littlest niece her's and am looking forward to giving it to her tonight when we meet up to go trick or treating!
Yesterday I took a notion into my head to put together a little goodie bag for the two nieces we will be with this evening. Just a fun, non-purely-sugar type treat of fruit snacks and Halloween playdoh tins. But I didn't think to buy those little plastic goodie bags at the store yesterday. So this afternoon I did this:
Prepping the goodie bags with freezer paper stencils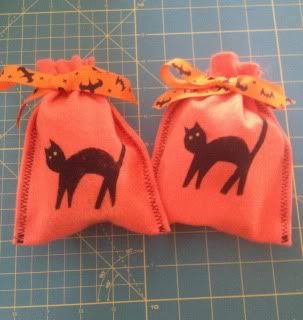 Fun and festive bags! Meow!
Lastly, this morning we also had to do something with the tonne of pumpkin seeds we removed from our pumpkins. I looked online for how to roast them because they've never really turned out well in the past for me. Turns out I didn't really need to. I had a resident expert. Little Man made them in preschool on Monday, so he could tell me what to do.
Here's his instructions:
1) boil in a pot in salty water
2) drain
3) use oil
4) then use seasoning salt - make sure it's seasoning salt - IS THAT SEASONING SALT?!?
- what are you doing putting them in the oven. We did NOT put them in the oven at school. Well... Maybe they put them in the oven while me made slime and I didn't see it... I don't think they go in the oven... WHY ARE YOU PUTTING THEM IN THE OVEN???????
My interpretation:
Bring seeds to a boil in salted water, simmer while getting the dog out of mischief, removing cat from counter, picking up aforementioned slime - so maybe five minutes? Drained them, put them back in the pot and mixed with a little oil, and seasoning salt (yes it definitely was seasoning salt! Yikes!), then onion powder, a sprinkle of soya and Worcestershire sauce and in the oven (at 400F) for about ten minutes. Yum, yum. And the head chef approves so phew! ;)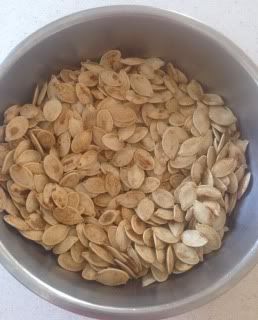 Very tasty! And four year old chef-approved!
So, I think we are all set for Halloween fun! I hope all of you celebrating have a safe and happy Halloween.
Happy Halloween!