I hope everyone has had a good start to 2013! I rang in the New Year with surgery on the 2nd, which sounds like it wouldn't be a good thing, but I am choosing to look at the silver lining view of it. I was put on the list for a laparoscopy/hysteroscopy (because of endometriosis) back in the summer. So it's good to finally have it done. Hopefully it helps! Also positive is this time I healed up in about half the time it took me to feel human again after the last time I had it done in 2008. Yahoo!!! Yet another positive? I have taken some time while I was healing to put my feet up when I got tired and do some knitting. I got oodles of crafting done in the first few days afterwards! Can't feel badly about that!
So onto the crafting!
First up I finished a pair of fingerless gloves. I used the
Cafe au Lait
pattern - I've used it before and quite enjoyed it. Knit in ruby red Cascade 220 sport they went quite quickly (if you don't count having to restart because Baby Boy decided "I helping you knit Mommy" and pulled everything off the needles. Argh)
Ruby Red Gloves
Next I knit a
Master Charles Ear Flap Hat
, which again is a repeat pattern for me. I used Patons Classic then washed it to block it in order to smooth out the lumps and bumps of the decreases. Unfortunately Patons Classic has a nasty tendency to grow. A lot. I thought all hope was lost. But in my absent mindedness, I tossed the offending disaster on top of the dryer. Then accidentally tossed it in with a load of laundry. When I found it, it was lightly felted and now once again is a good fit for a lady's average sized noggin. Whoo hoo!
LTM makes a much better model than me!
Then I moved along to using up a skein of Briggs & Little Heritage in the Seafoam that has been languishing in my stash for about five years. I whipped up a
Fisher Cable Hat
. I really loved this quick knit. And by quick I mean
really
quick! I was done in a day!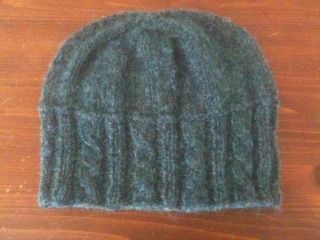 I'se the B'y
My very favourite knitting project though is a pair of socks. I can not say enough good things about the
Kalajoki
pattern. Knit on 2.75mm needles using sport weight yarn (I used Briggs & Little Sport in Mulberry - such a pretty colour that's also been in my stash about five years!) with a pattern that has you doing something slightly different every row for the 33 row repeat it goes by quite fast. Even the dreaded second sock syndrome isn't a risk because the second sock, being a mirror image of the first, is different again. Add to that a really nifty "anatomical" toe and you've got the makings of instant gratification. These socks took all of five days to finish. Best of all, I finished them last Friday night as a blizzard howled outside. Perfect timing!
Cozy, cozy socks!
Once I was feeling better I thought I'd do some sewing. I had a few gifts I needed to make and after seeing how much Little Toddler Man and Baby Boy loved the one I made for their cousin at Christmas time, I decided to make some Waldorf inspired little flannel babies. I'm addicted to making these wee dolls. I love how each one comes out just a bit different. I'm even getting quite proficient with the felting needle, only stabbing myself a few times - not a bad feat especially since none of my injuries required bandaids this time!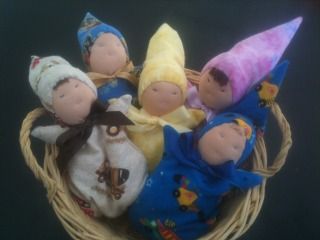 A basket of little flannel friends!
So as you can see I've been keeping out of trouble, resting up and now that I'm all healed up it's time to get back to the more mundane things in life like washing floors, laundry and dishes!