I have a new habit. It may well be an addiction.
It all started when I had my surgery and I took to crawling into bed after the boys went to bed to sit and knit. Then I started listening to audiobooks while sitting in bed knitting. Now I'm addicted. It's relaxing, it's peaceful and after a few hours of knitting all I have to do is turn the light off and go to sleep (plus it's a whole lot warmer in that part of the house compared to the living room). Win win. So I've got a whole lot of knitting done over the last few weeks!
First on the list is my
Lingonberry Shawlette
. I raided my stash for some Koigu Painter's Palette that I bought back in about 2006. It's been tucked away forever not sure what it wanted to be. I think it's pretty happy with what it's become! I know I am. This is the first triangular shawl of this sort that I've made. I am sure it won't be the last. In fact I've already been scoping out other patterns for my sock yarns that are too pretty to be hidden by shoes!
A new pretty for me!
After Lingonberry was finished I shifted gears. I had ordered some tweedy yarn from
Elann
to make (BF)G a sweater. I was planning it as a surprise for next Christmas and thought I'd get a head start. Turns out I suck at surprising him. He's been getting lots of wear out of it! I'm especially proud of
Guston
because it's the first time I've really taken care to swatch
and
block properly. It's amazing what a difference it makes. But the rest of you knitterly people already know this don't you? I swear though, I've turned over a new leaf. I really, really love this sweater on (BF)G!
Look at the fit!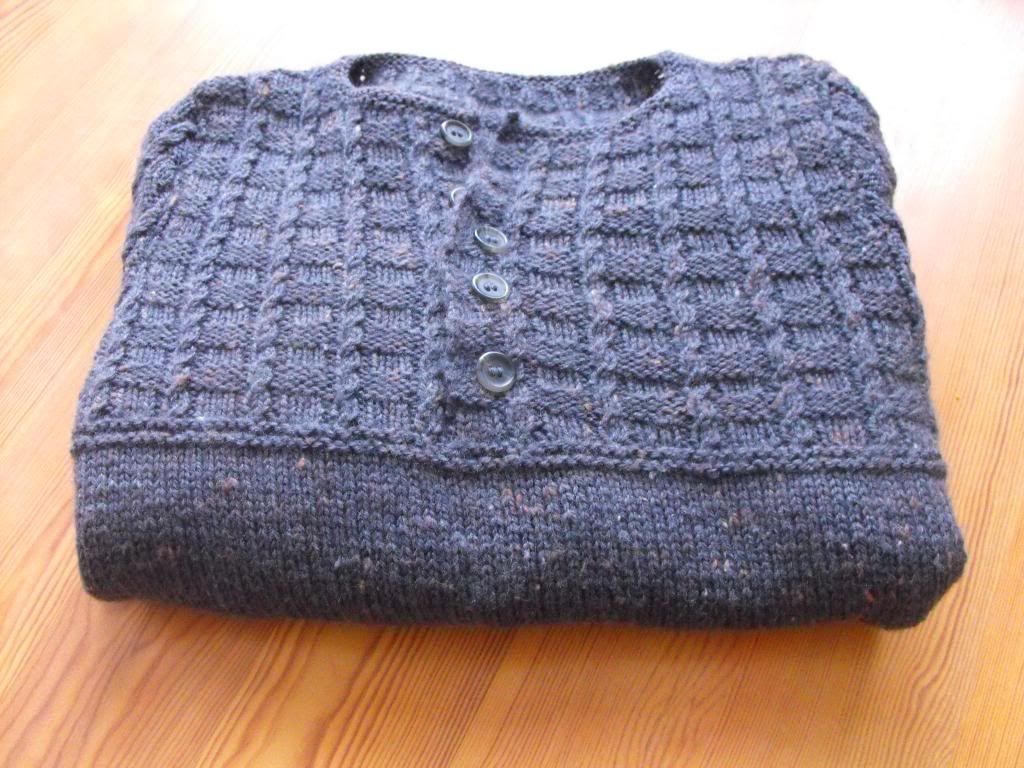 Close up of the cable pattern
Moving right along... I'd initially started Guston as a knit along with the Knitting for Boys group on Ravelry, but since I finished within two weeks of starting what was to be a year long KAL I figured in for a penny in for a pound and jumped into their monthly KAL for February, casting on for a
Greyson
pullover for Baby Boy. I LOVE this pattern. I used some beautifully soft Punta Merino Perfection that was in my stash and bought a skein of Berroco Vintage for the contrast. He's two. Washability and softness were of utmost importance for choosing his yarn. He really likes his new sweater! (Not the greatest pictures - this is what you get taking pics on an old iPhone on a gray, cloudy morning in a somewhat dark room - but you get the idea)
Modeling Greyson
Lounging about
I learned a new technique for casting off the neckline that was amazing both in it's simplicity and result. If you need a stretchy cast off for any reason I urge you to try out Jeny's Surprisingly Stretchy Bind Off. Cat Bordhi has a great YouTube
video
demonstrating it! Go take a look. It will change your knitting life.
Little Toddler Man has sweater envy. I've promised to knit him
Hotshot
by the same designer as Greyson. Actually, what I rashly promised was to knit him, Baby Boy
and
their Waldorf dolls all their own Hotshots. Clearly I'm insane. I haven't started yet because I need to pop into my LYS in the city for yarn and I haven't been to the city in a few weeks. Sunday looks like it'll be the day. Every time LTM sees me pull out my knitting bag he asks hopefully, "Is that for my sweater???" and is crestfallen when I tell him not yet. Soon little man. Soon.
So while I wait I keep knitting.
My friend Jen deployed at the end of November. A group of us from our mama's group decided to do a little KAL with her while she's overseas and my sock pattern
Follow the Leader
was chosen. I started them, but then put them aside to do my Christmas knitting, then picked them up again in the new year, didn't look at my notes and completely messed them up. Rather embarrassing to admit I messed up
my own pattern
, possibly more embarrassing to admit in a fit worthy of a two year old's tantrum I ripped them right back to the beginning, rewound the wool and tossed the ball back in my closet. Not my finest moment...
I took the yarn out last week, cast on and had them almost finished in time for G to come home to visit last weekend. She asked eagerly, "Are those for me?!?" I said an emphatic "NO!" intending to keep them all for myself, but by the time I was grafting the toe I decided perhaps if I gave them to her I wouldn't lose any of my other hand knit socks. She's a shameless sock thief. You have to watch your hand knits carefully around her...
She graciously accepted my offering and I've not noticed any other pairs missing so it worked out well for me.
I'll admit I do like that G appreciates hand knits so much ;)
I've still got a few more days to wait until I can get the yarn for the Hotshots so yesterday I grabbed a ball of sock yarn out of my stash and cast on a new pattern I've been thinking about. It's another pair of ankle socks, we'll see how it goes. I'll have to keep you posted.
Maybe one of these days I'm going to have to put the needles down, turn off the audiobook and spend some evenings with my sewing machine. I've got three baby gifts cut out and ready to be sewn. I really should get on them before the babies they're meant for are graduating high school.
So that's what I've been up to lately. How about you? Are you busy crafting your winter evenings away?