I always have the best of intentions to get things done. So often I lack on the follow through.
My own little KCWC was about a big a bust as the actual KCWC for me. I got next to nothing accomplished. But I've decided to be ok with that. I just have to accept the fact that I don't have the chance to sew every day. I could. You know. Instead of go to bed at night, but with two little boys that like to get up with the rooster down the road, I need my sleep!
I did get a few crafty things done though, so here's the round up so far!
I made a hat to go with the owl outfit I made for my friend's little one - I loved this pattern! It's Barbara Prime's Owl Tuque.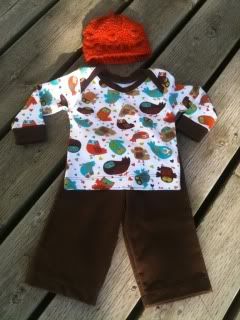 Owl Tuque and Owl Outfit
I also made a tea pouch for another friend who was saying one day how she was freezing at work - a case of air conditioning still being on when it shouldn't have - and she didn't have tea to warm up with. So I thought a little tea pouch she could slip in her bag or desk would be in order. Then she can always have her tea with her!
Tea to Go!
I also jumped on the Bapron bandwagon and made a couple for friends who have just had babies. I can see what all the fuss is about! It's a great little pattern, although how it could fit up to a 30lb toddler is beyond me. I tried it on Baby Boy and he was like a 26lb stuffed sausage. I might make him a couple, but I'll have to make them a bit wider!
Bapron 1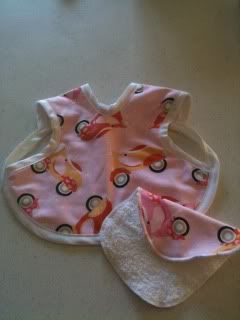 Bapron 2 and washcloth
No pictures yet. I'll get one when the whole lot is done, but last but not least I got one pajama top done for the matching jammies of 2011 so far. Finally. I should really get my act together and sew the other two. (BF)G isn't likely to outgrow his, but LTM is definitely at risk at the rate he's growing these days!
Speaking of LTM, he and Baby Boy didn't get dressed up and go out for Halloween this year. Both of them are too little for candy and it would require driving into town or the city to go trick or treating. Something I was just not willing to do on a weeknight at bedtime for candy they can't eat. But we did carve a pumpkin. We had a nice big pumpkin that LTM grew himself from a little seed. He was pretty proud of that pumpkin, rightfully so! He took care of it for many months, watering it with his little watering can, checking on it every day to see how it was growing. He really enjoyed the carving part too – helping with removing the seeds, which we then washed together and roasted. Turns out it's his new favourite snack! He's always trying to sneak into the cupboard for a few!
Little Toddler Man's Pumpkin!!




Last but not least I have to mention J and G! J turned 21 yesterday and G turns 19 tomorrow!!! I can't believe it's 21 years already since I became a mother for the first time! It seems like a blink of an eye ago, J and G were little toddlers like Baby Boy and Little Toddler Man are now. How fast it goes and what an incredible journey it's been so far! Happy birthday to my two beautiful children adults!!!
J and Baby Boy - taken July 2011
G and LTM taken October 2011