I've been at the machine a bit lately. Last week I had a really long stint when both little boys decided Saturday afternoon was a good napping afternoon. I managed about two hours time I think! It's amazing what can be accomplished in a block of time like that!
My circle of friends are still in the midst of a baby boom, so I've a list of gifts to make a mile long. Really. Every time I figure out what I want to make for one babe to be, another Mommy announces a new arrival on the way. Luckily I enjoy making baby things and they go nice and quickly!
I actually really love the gift I made last weekend! I hope the Mommy I'm giving it to (and of course her baby girl) will love it just as much!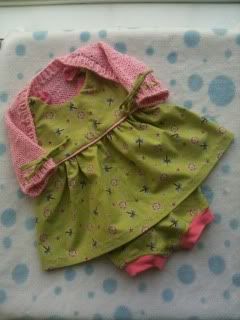 I used
made by Rae's
pattern for the dress,
Fishsticks Designs'
pattern for the bloomers and the shrug is "Confection" from
The ShizKnit
. All fantastic patterns that I'll definitely turn to again and again I'm sure!
I also made another pair of pjs for Baby Boy, again using Fishsticks Designs "Comfy Sleep Set" pattern. I made this set a bit bigger because Baby Boy has already outgrown the first set I made him!
I think he's looking pretty comfy in them while he plays. What do you think?
Anyone want to take a stab
at figuring out exactly what
I'm supposed to do next?
I started working on my Lopi sweater. You know the previously doomed, but then saved, and now... once again doomed sweater. I picked it up quite some time ago, determined to finish it. I was so close. Only the neckline, hood and finishing to be done. Then one day I went out and foolishly, oh so foolishly, left my pattern where the dogs could reach it. I came home to find, much to my dismay, that the dogs had eaten my pattern. The very part I need in order to finish the sweater, GONE. There were some tattered and torn pieces of paper scattered around the room, and I tried to salvage them. Unfortunately they didn't belong to the sweater I am knitting. I've finished the neckline, I'll eventually do the hood, but how to attach one to the other and finish the sweater is beyond me. I tried it on too. And it's too small. Way too small for decency. I'm greatly saddened, no make that frustrated, by this final snag in the Lopi from hell.