Well, I finally decided what to knit on Friday night - a bit of everything! I did finish my Purple Breeze socks and I am really quite pleased with them. I really did enjoy using Maizy. It's very soft, almost silky to the touch and I had none of the "splitty" problems that I'd read others complaining about. I think maybe the company improved their product or I just lucked out. Either or, I was happy with it. And remembering that I'd purchased it on sale for under $5.00 made me even more happy about it. So here are my newest socks:
Purdy aren't they?
There is just one little thing that I should warn you about with Maizy. Remember how I just said a moment ago that the yarn felt almost silky to the touch? As it turns out, along with that silky feel comes a side effect that is not as desirable. These socks are SLIPPERY! And considering I have almost exclusively wood floors throughout most of my house, you can draw your own conclusions on that matter. But, yes, I'll be fine. My back will re-align itself soon I'm sure after contorting the way it did the other day as I tried to right myself before I managed to hit the floor. Thank you for asking.

So once the Breeze had blown through I decided to start in on the sleeves of (BF)G's sweater again. Determined not to have tangles in the yarn, I have now devised a very complex system of flipping over the ball of yarn each time I switch sleeves. So far it is working and I am feeling very self-congratulatory about it all. Alright. I know I shouldn't be. Pride goes before a fall (one might say I've already had that problem this week, so let's just not go there!) I also know that being so busy patting myself on the back for the lack of tangles as of late is just tempting fate, but hey! I'll take it while the going's good with these sleeves. So here's where I got to on them.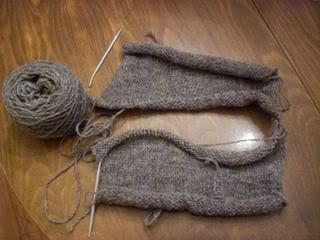 Not bad eh?

Now. Not to be crazy about starting new projects or anything, but really with Breeze done, and the sleeves being too big and cumbersome for my purse, I needed another small on-the-go project. I chose to start a new little project for my wee neice, Oona, who I introduced you to a couple of weeks ago. I figure I'd better get cracking on this sweater soon, or I'll procrastinate so long that she'll be graduating highschool before I ever get it made. So far I'm loving the Sirdar Snuggly DK I'm using. I've never met such a soft, cuddly acrylic. This may become my "go to" baby yarn from here on out. The pattern is quick and easy too, so I'm hopeful I will get this one done in no time!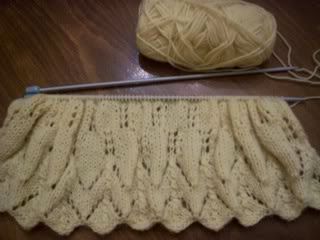 Really - this yarn is as buttery soft as it looks!