First and foremost Baby Boy turned one on October 7th. How is my baby already one???? Happy Birthday little fellow!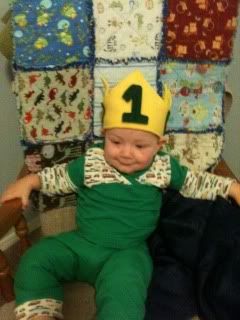 Last week was Kids Clothing Week Challenge. I was going to be participating for the first time - somehow I always find out after the fact that it's on, but this time I found out a whole few days ahead of time. So I made a plan. It looked something like this:
Monday, Tuesday, Wednesday -
cut out flannel for boys and (BF)G's new set of matching pjs (ok - I realize (BF)G's pjs don't really fit in with KCWC, but whatever. If I'm cutting out a gazillion yards of the same fabric I might as well do it all in one fell swoop.
sew at least complete sets for the boys (Using Kwik Sew pattern 3126)
Thursday -
Friday and Saturday -
make outfit for friend's expected baby
make LTM a new belt using elsie marley's tutorial
Sunday -
finish up odds and ends from the week and possibly begin work on a birthday gift I hope to make
HA HA HA HA HA HA HA HA HA HA!!!!!!!
I'm so dilusional it hurts!
Here's how the week actually shaped up:
Monday -
Cut out fabric for pjs, realize I don't have enough for the fronts of the boys tops and (BF)G's top in it's entirety
Tuesday -
Go to my local LFS and buy another 2.5 m of flannel, preshrink it once home
Sweet nothing - oh! Not true. Pop into the fabric store in the city for corduroy for LTM's hat
Thursday -
Cut out hat
Start sewing pjs - get the boys' bottoms done except for elastic
Friday -
definitely sweet nothin' done
Saturday -
Feeling all woe is me, I completely failed at my first KCWC I decided to make one project and see it through to completion. The Eddie Cap is sewn and well loved.
So. What a bust. All the challenge required was one hour a day. I tried to be realistic and tell myself if some days didn't get any challenge love it was alright because other days I could double up. Ah well. Life being life, sometimes other things come before sewing, and (BF)G had a week of vacation time from work and spending time with him and the little guys, plus spending a day with G before she took off for Costa Rica for the next six weeks all fell into the coming before sewing category.
That being said, I really wanted to do KCWC, so although the official week is done, I'm doing my own little challenge this week, just to say I did it. So far so good. Right now I can't for the life of me remember what it was I did Monday. Hmmm. No clue. Must be getting old. The memory is going! Tuesday I cut out and sewed the pants for my friend's baby as well as cut out the shirt. Today I sewed the shirt. And thought about cutting out the remaining top pieces for the matching pjs - does thinking about it count?? Tomorrow, maybe I'll actually start tackling the tops! Once they're finished I'll see what comes next. Belt (kind of necessary - suddenly LTM has become a skinny minny and his pants keep falling down) or the birthday gift - birthday's not till December so maybe I can wait on that one.
I did do some major sewing before Baby Boy's birthday and KCWC. I made Baby Boy his birthday crown and nine goodie bags using Fishstick's
tutorial
. I also knit two hats for the babies that were too little for regular party goodie bags and finished a blanket square and small toy.
The round up of finished projects (in no particular order thanks to Blogger not letting me put the photos where I wanted them to be):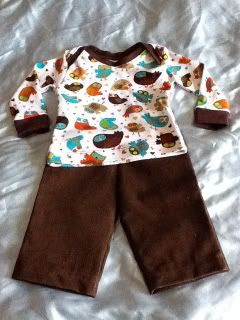 Baby Gift Outfit
(top is Fishstick's Lap Tee and bottoms adapted from a Simplicity pattern)
Blanket Square and Toy for a communal project
Party Favor Petunnia
Party Favor Pumpkin
Goodie Bags for Baby Boy's party guests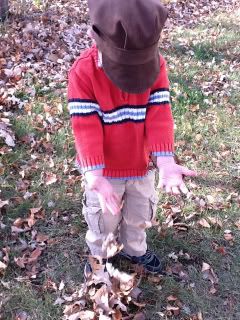 The Eddie Cap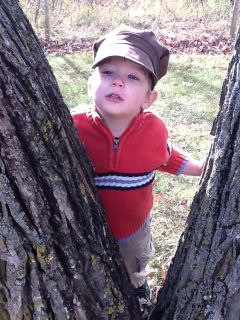 The Eddie Cap View 2

So overall some good productivity. Just not during the week I expected to focus on it.
PS: It's just come to me what I did on Monday! I sewed (BF)G's pj bottoms! Phew. That lack of memory was kind of bugging me!