I wasn't really planning on doing much more for Halloween other than putting up the window cling decorations. I figured the boys were still little enough they wouldn't know they were missing out since they've never done anything Halloween like yet other than some decorations on the windows and carving a pumpkin last year. We live in a rural area where no one in the area trick or treats so they've really never been exposed to it.
A literary favourite of a certain two year old
But I was somehow foiled in that plan. They have a book that is about carving pumpkins that Little Toddler Man loves, then there's "
Runaway Pumpkin
", a rollicking good book that I think I've read at least 100 times to Baby Boy, then we had a Halloween party at music class. But all that is of no consequence really. What
really
tipped the balance in this whole business was that someone (who? WHO?!?!?!) told Little Toddler Man about trick or treating and he's been obsessed with the notion for weeks.
So there you have it. Baby Boy and Little Toddler Man will experience the thrill of it all for the very first time tonight. In preparation I thought their little hands might find a pillowcase (the preferred receptacle of my childhood - pillowcases hold a lot of loot!!) awkward, and a tote bag might be too big, so I found the treat bag tutorial I'd used for Baby Boy's birthday party last year and made them each a new bag.
I explained the intricacies of trick or treating to Baby Boy this morning. I told him you go up to someone's door and yell trick or treat then you open your bag, they will put a treat in it, you say thank you and go to the next house. I think he caught on fairly quickly... Moments later he sidled up to me in the kitchen, opened his little treat bag up and said, "Put treat in there now pease" - he was somewhat disgruntled when I told him no treats right then and that he had to have breakfast first. Oh the trials and tribulations of being two!
Right after breakfast this morning the boys set to work cleaning out then helping carve the pumpkin they grew in the summer. Little Toddler Man is an old pro, he helped last year with his pumpkin he grew too. He got a somewhat hesitant Baby Boy enthusiastic in no time. Both boys were sort of disappointed to be done with all the "slimy pulp" as LTM kept calling it
Cleaning a pumpkin is good fun!
They apparently have great affection for the final result of their hard work!
I had great plans to make them Spiderman costumes. I have an old pattern I've made a few times now, and had planned to modify the body for cost and fitting over parkas, but I got as far as the masks and decided to rethink my plan. I was worried that the mask wouldn't allow for unobstructed vision, and I was running out of time anyways as I hummed and hawed about drafting a new "body" pattern.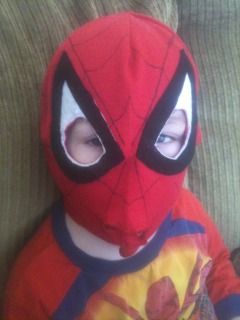 Kind of cool, but not so great for seeing... Or breathing really - apologies to J who wore his when he was about six or seven without complaint. Why didn't you say anything honey???
The decision to rethink made my life so much easier! I opened up Little Toddler Man's closet, pulled out the basket of costumes and figured out what would fit. The boys happily donned J's Jack O Lantern costume of 1993 and G's bunny costume of 1994 for their party at Kindermusik last Saturday and they'll wear them again tonight. The bonus of these (beyond breathing and seeing) is they will definitely be able to fit their winter gear underneath. Which given the grey overcast sky and expected temperature of +2C this evening it's a pretty necessary bonus!
They'll be ready to go!
Happy Halloween! I hope you all have a fun and safe evening enjoying the festivities!