Well, it's been almost a week since I finished them at the dance competition, but I am just finally getting a chance to show off my very fabulous (well to me anyways) Monkey socks! Cookie A. is a sock genius! I loved everything about the pattern, the fit, the design, the way I was able to zip through knitting them in only two weeks! So here I present to you Monkey. Knit on bamboo needles (I love them for socks!!) using Sweet Georgia's Berry.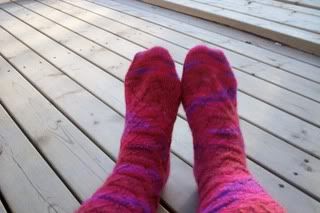 Now on to other yarn-y delights...
I can't remember if I mentioned how very weak I am when it comes to having discipline in NOT increasing my stash. I might as well come clean right here and right now. I have no self control. I have a problem. I really do. That being said, I don't think anyone can blame me for snapping up a lovely bag of 10 balls of Jade bamboo. I have no idea which project it's destined to, but I just had to have it. It came a few weeks ago, and so far has been sitting all forlorn in my closet. I thought it should come out into the beautiful sunny afternoon just for a few minutes so I could really get a good feel for the colour. I think I love it even more now!!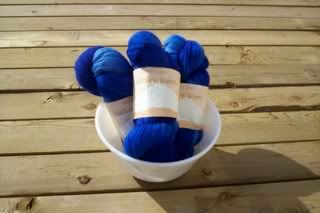 Now, my latest little aquisition is some absolutely gorgeous Araucania Nature Wool that is destined to become my very own
Clapotis
! I've been wanting to find the perfect yarn and then I stumbled across these little gems on ebay one night. Such a good price, shipping to Canada was awesome, Canada customs however was less than awesome and charged me another $8.77 tax. Grrrr. Still worth it though. I am so eager to start my "Clap" tonight!
In other knitty news, I am having a ball (ha ha pardon the pun) with my Spring Fling Swap Partners! I've been sending and receiving e-cards, messages and emails with my partners and it's a hoot! And a shout out to my Knitty SP8 partner, Duchess, who sent me such lovely lovely gifts - (BF)G absolutely loves his socks made from the wool you hand dyed for me, and my Party Lace Scarf gets compliments from everyone who sees me knitting it! Your generousity and thoughtfulness are so very appreciated! And I would be terribly remiss not to mention Colette from right here in Manitoba who was my secret partner in the International Tote Exchange III. She knit me a fantastic bag in terrific colours of yellow, green, brown and blue! I actually have the perfect spring outfit to go with it too!
Well, I'm off to go print off the pattern for Clapotis! Until next time... Happy knitting!