I just wanted to quickly post a couple pics of what some lovely partners have sent me in the last week! With Folklorama in full swing I've finally just got the chance now!
First my fantastic SP9 partner sent me this wonderful parcel!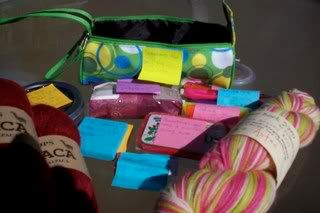 Look at the gorgeous sock wool and the soft soft alpaca! I also received yummy chocolate (missing from the pic 'cause I ate it long before the pic got snapped!) and all sorts of coloured pens and highlighters and supplies for making life easier! Check out the funky case to put them all in too! Plus, to top it off my partner put little notes on each little gift making it even more fun to open! I can hardly wait for my flight to Peru, so I can dive into sock knitting again! :)
Secondly, I received the most beautiful tote from my partner, Kris in the ITEIV! Isn't it gorgeous? I love the colours and the treats... goodness I've been spoiled to a high degree wouldn't you say? Book, magnet, candied popcorn, tea, coffee, candle, little knitting accessories, Burt's Bees Lip Shimmers, a fun little sheep to grow in water! Such a lovely and generous package!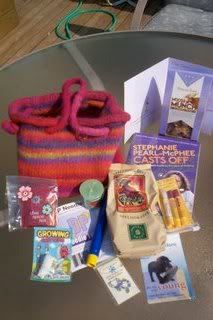 And finally, I thought I'd post a pic of the girls (oh and Connor! Mustn't forget our lone boy in the group!) dancing Rebel Piper at the Winnipeg Forks last Saturday for the Opening Ceremonies for Folklorama! Don't the hats look great... grrrr... I finished them mere hours before they hit the stage.