I have had yet another fantastic parcel from my SP9 round partner. I know who she is now, so can thank her properly!
SarahJanet
has been incredible at picking out lovely goodies for me! Look at what the latest parcel contained!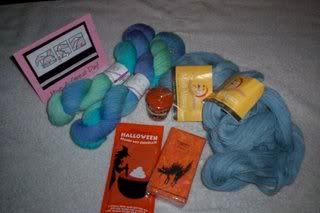 Lorna's Laces sock yarn (I adore Lorna's Laces!!!!), Misti Alpaca laceweight (I have just the pattern for it!), orange hot chocolate, hallowe'en themed tissues (gotta love that!!!!) and yummy cinnamon scented candle!
I feel so lucky!!! Thank you again, Sarah Janet!