I realized that it's been a month since I last posted. I guess life got busy. Between some health issues for J and Granny moving into the nursing home and then promptly having a stroke, getting ready for Christmas and my Auntie Rose passing away I didn't feel much like blogging I suppose. In fact I took the entire ten days off of work as time to be away from the computer and didn't even check my email the whole time.
But I'm back now, and I've things to show you all!
First I'll start with the last few FOs of 2007.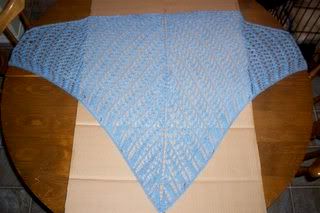 First up is my second attempt at the Little Arrowhead Shawl. I decided to make it out of a superwash wool from my stash (the brand I think was King Cole, the name eludes me) I did one extra pattern repeat making it substancially larger than the first one I made for my swap partner. I knit this one for my Granny. All her adult life she's been knitting shawls for each baby that was born. In a box of special things I still have the shawl that was knit for me to come home from the hospital with as well as the ones for J, G and N. They were always the same pattern and I think each one over the years except one was always white. I decided that now someone should knit her a shawl to keep her warm and give her a sense of that cozy, secure comfort that her shawls always gave the babies. Grandma was thrilled with it and I'm so glad I thought to make it for her.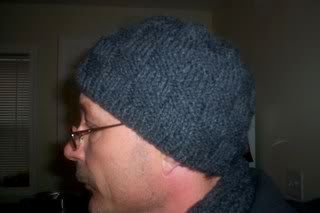 Next up is (BF)G's hat. It's the Brother-in-law basketweave hat from
Kody May Knits
. It was super quick to knit and fits him really well. It's made to match the scarf I made him in the fall and is perfect for those cold mornings outside with the dogs!
Continuing on the list I made a longer version of the lacey scarf pattern from
"Last Minute Knitted Gifts"
. I needed something around my neck to wear with my purple and black dress and I started and finished it on boxing day. I didn't have time nor inclination to go to my LYS so I used a ball of Paton's Lacette I had in the stash left over from G's lace wristwarmers I made last winter.
Stash busting all the way I tell you!!!
So onto current projects. I am thrilled to finally be able to move my Fancy Lace Socks from "Knitting Vintage Socks" over to the FO category! I started them forever ago and am just finally finishing them now. I don't know why I waited so long to get the second sock done. I started it on January 2nd and finished it yesterday so just under a week of knitting time. These are my first Lorna's Laces Socks. I love this yarn (I sense a slight addiction coming on!) and the colourway "Bittersweet" is awesome in my opinion! My only problem is I never seem to get both socks to match exactly when using yarn like this, but it's not a huge problem and my obsessive compulsive nature will just have to get used to the idea that they aren't a perfect match!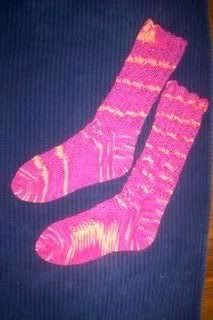 I'm also in the midst of a cabled cardi for myself. It's the top down
Bulky Cabled Sweater
from Glampyre Knits. I am a little fearful though that I'm going to run short of wool. I've only got less than a full two balls left and still need to do the sleeves and button bands. I'm using Laines Du Nord Softlight in Orange Brick. This yarn is incredibly soft and cuddly feeling. I really hope I'll have enough. If I don't hopefully Elann.com will still have some of the same dyelot left. At $3.01/ball it was an incredible bargain!
Up next I am thinking of casting on the Cobblestone Pullover (from IK) using some stash yarn of unknown name for (BF)G. I'll have to do some playing with the yarn to see if it'll work out, and also take a closer look at the pattern sizing. He wants some new socks too. I'm also waiting to cast on another sweater for myself (the Gathered Pullover also from IK) and have the wool ready and waiting! I'm planning to use Mr. Joe Blanket in Grey Flannel. I've started the guage swatch for it, so we'll see how that turns out. So far I'm really liking the feel and look of the yarn and it was yet another $3.01/ball bargain from Elann.com!