Finally. Progress in the knitting department.
I've been working on a few small projects for the most part, but picking up Greenjeans and doing a few rows here and there every now and again so it's getting some attention too.
First off, I was starting to feel a bit weird that I hadn't started to knit anything for the baby yet. I'm a bit old-fashioned (read: crazy) when it comes to baby things. I was once told, many moons ago when I was pregant with J, that you shouldn't get anything for the baby before you're seven months along. For whatever reason, that has stuck fast in my brain and I have trouble letting go of it. Really it's silly. Why should I wait until I'm in my third trimester, overly big and overly tired to start preparing for this little one. Plus people were starting to give me weird looks when they'd say, "So have you been knitting lots for baby?" and I say, "No. Nothing yet." It was like I was somehow failing as a knitting expectant mother.
Anyways - to ease my way in to baby knitting without upsetting any superstitious madness, I thought I'd make a couple of pairs of
Magic Baby Slippers
. They're a fantastic way to use up odds and ends of sock yarn you have left in your stash and they take no time at all to whip up! Because I don't know if this little one is a boy or girl I knit a pair of each.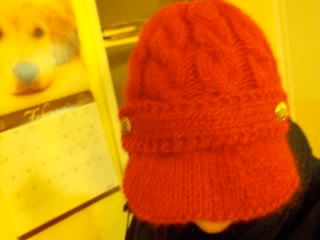 Next on my list was my
Capitan
hat. I had been gifted the perfect shade of red lopi last summer and so thought I'd make myself a new hat to go along with the alpaca scarf I'd brought back from my trip to Peru. Apparently, I do not suit Capitan as well as I hoped. Given the ridiculous amount of laughter that ensued when I tried it on for (BF)G, I am thinking perhaps Capitan will be reserved for very cold days out in the yard at home, or will be finding a new home. So - you get to see the hat, without being able to see how silly I look in it. It is a great pattern though! Quick and easy to follow.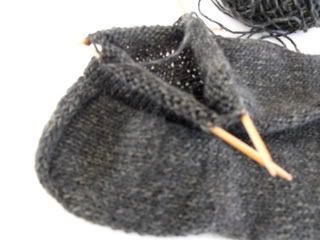 I've also been working on (BF)G's socks. They're my go to project when I'm on the go. I keep them in my purse and pull them out whenever I have some waiting to do or some spare time on my hands. I had forgotten that the pattern uses a "Dutch Heel" which is done rather differently then my usual heel that I'm used to, so for a bit it threw me, but once done, I had my "ah-ha" moment and remember that despite it's odd look, it's actually a pretty good heel for (BF)G's socks.
Alrighty - I did mention a new puppy! Because with the four cats, rat, fish, and two dogs, we clearly did not have enough pets already, we went and got ourselves another one. I'd like to introduce you to our baby dog, "Bella". She's only eight weeks old and is a cross between a Great Pyranese and a Newfie. In other words, she will grow to be the size of a small car! But she's beautiful, affectionate and already so smart.
Maybe next time I post I will actually have major progress done on Greenjeans. (It's my next goal in knitting accomplishments that I would like to achieve!)