First let me tell you I only wear socks when absolutely necessary. I will wear sandals and flip flops for as long as I possibly can. Pretty much from snow melt to snow fall. Well ok, maybe I'm not quite
that
opposed to socks. That would be nuts! In all reality I would say +5C is about my cut off temp where I give in and wear socks and am quite happy to do so. But not store bought socks. Woe is me if I have to resort to that particular torture for my tootsies!
So knitting socks is always pretty high on my queue of must knit projects. As much as I don't like wearing socks I LOVE knitting them. There is nothing so cozy or cheering as a newly cast off pair of socks.
I just finished a pair of simple socks last week. They're just ribs and cables. Nothing fancy or fussy about them. I really like them though. The ribbing makes them fit perfectly, they don't even come off when I take my boots off. (Bonus points for that! I loathe taking my boot off and having to hop around on a bare foot trying to avoid the ice cold snow that's invariably been tracked in).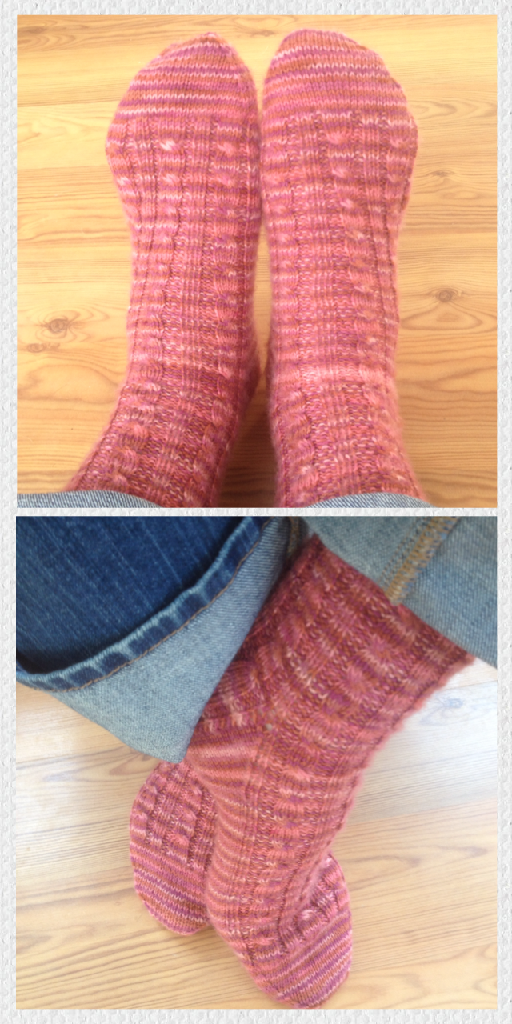 Pretty in Pink!
I knit these socks two at a time using the magic loop method, which is a thing of beauty in itself. No dreaded second sock syndrome possible with that. Once you're done, you're done. I had some trials at the beginning though and almost resorted to doing them one at a time. No matter what I did I kept ending up with a massive tangle of yarn and needle cable. Frustrated beyond belief, I finally gave up, cast on one sock and started in. Ten rows later I decided I was not going to be beaten by a bit of string and sticks, so set sock one aside, cast on sock two, worked ten rows and put them both on my circular. I was off to the races. Thankfully. Or I'd still likely be working on my
Rib and Cable socks
instead of already working on my second
Butterflies are Free
sock! I did do a few minor modifications to the pattern - my usual short row heel and my usual toe, but other than that I knit them as written.
Just starting...
ACK!!!! Mistake!
Ooooh Pretty!
Can I wear just one?
I've been itching to try colour work socks. I find the stranded knitting to be so much fun and oh so addictive. I always want to knit "just one more round" to see the picture appear before my eyes. I felt that I had lots of practice after knitting my
Lilac Mittens
, G's
Moulin Rouge Mittens
and Mom's
Lotus Mittens
, so felt it was time to take the leap into socks (see what I did there?
Leap
?
Socks
? ha ha!). A friend of mine recently completed a pair of
Fireweeds
for our colour work KAL in our Ravelry group and they were so beautiful it made me want to cast on even more! A quick stop in at the yarn store in the city on Friday and I was ready to go. I had decided on the yarn I wanted,
Sisu
, which is a Norwegian wool/nylon blend that should be fairly hard wearing and is really reasonably priced (less than $5 a ball!) so had done a gauge swatch the night before on some leftover Sisu I had in my stash. I'm glad I did. I never swatch for socks, but with the stranded knitting I was an entire stitch off. Eeek!
I cast on my first sock Friday evening and grafted the toe yesterday. Six days! For an entire sock! Did I mention it's addictive? I spent far too many late nights knitting "just one more round" and then Baby Boy was up at 5am yesterday so I took advantage while he quietly watched Kipper on Netflix to finish the toe. I even had a disaster that I had to rip back - late one evening as I tried on my sock to admire it, I realized at the start of my knitting that evening I had made a mistake. A very noticeable
on the front of the sock can't ignore
kind of mistake and had to rip back 15 rows. OUCH! But I put in a lifeline and had at it and I'm glad I made the effort! Last night I cast on the second sock and so far, it too, has been flying off the needles! I hope by next weekend to have my second pair of socks for 2014 ready to wear! And then I really want to cast on another pair of colourwork socks. Remember last post I was saying I couldn't decide between butterflies or
Water for the Elephants
? Well. I just can't seem to get those elephants out of my head...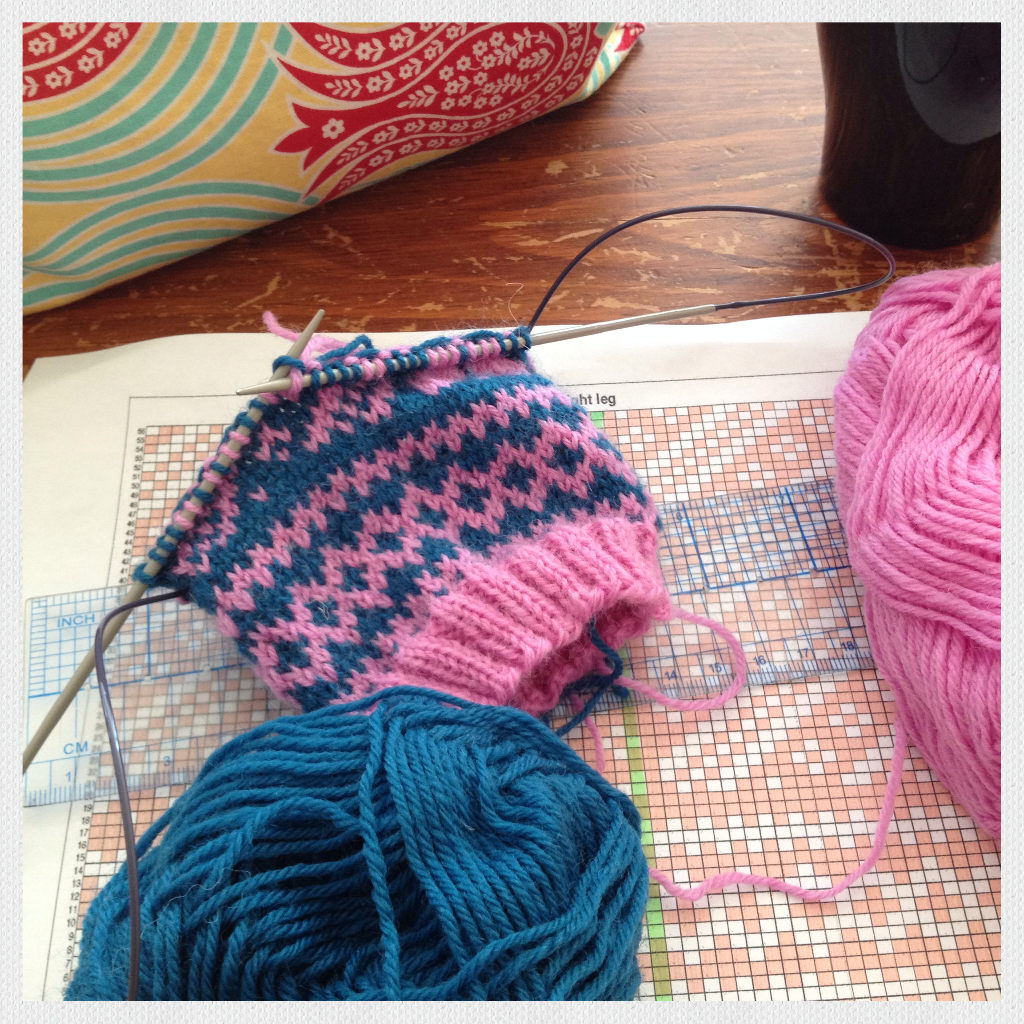 Working away on my second sock!
When I'm not working on my sock, which is only when knitting time doesn't lend itself well to chart reading (car knitting, when I'm keeping watch over the boys in the tub, or watching a tv show that's too intense for knitting concentration) I've been knitting a cowl that I'm in the process of writing a pattern for.
One of these days I need to set down the needles and get back to the sewing machine, but for now with all this cold weather we've had this winter it's all knitting all the time it would seem!
How about you? Is there something you gravitate towards when the mercury plummets?