I went fabric shopping yesterday and I went fabric shopping two weeks ago and somehow it has led to madness. Especially given my sewing machine, which was an unfortunate Walmart Singer purchase about six or seven years ago, has been having fits lately and refusing to behave properly leading to much frustration, anxiety and foul language.
Some of the new fabric, washed folded and waiting to be pressed
Two weeks ago was for specific fabric for two test projects and denim for a pair of
Ginger Jeans
- why?!? I know that the Goodtime Gal Singer won't handle denim - what delusion was I living under when I decided I could make myself jeans?!?! Then yesterday was simply for 1.2 m of cotton to go with the .4 m of stupidly expensive Transformers print cotton that mysteriously ended up in my basket the last time. (I say mysteriously, but Baby Boy was shopping with me, so there's not really a whole lot of mystery to it...) I decided to make pillow cases for the little boys with the print, but I refuse to spend over $20 to make a single pillow case. That's just crazy talk, thus the 1.2 m needed yesterday to pair with the print. Of course one thing led to another...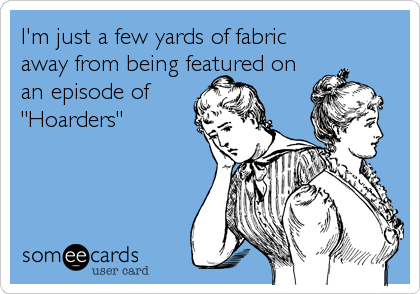 Yup. This is me.
I got the fabric I was after. The boys picked out the colours they wanted. But they were so very, very well behaved in the fabric store, which is very, very hard for two little boys to be, that when they asked if we could buy new fabric for summer pjs I said sure, and let them pick whatever they wanted.
Beautiful princess dress fabric
As we were wandering the store to pick out the pj fabric, Little Man came across a floral print he really wanted me to buy for myself. I put it back on the table and we continued our hunt for his fabric, but he kept gravitating back towards the floral. Finally he pulled out the big guns. "Mommy. You should really buy this to make a pretty dress for yourself. You will look like a beautiful princess in it."
SOLD.
How could anyone refuse that?
Then they both picked out their pj fabric, some fabric for a new handbag (I'm planning on Swoon Pattern's
Blanche Barrel Bag
) for me for spring and some cotton lawn for a spring top also for me. See? Pure unadulterated madness.
So I need a list, and it needs to be prioritized. Because not pictured here are the test projects, the denim and the fabric for costumes/pjs promised for Superhero day at Baby Boy's preschool. (fair is fair and I made
special ones for Little Man's Superhero Day last year
so you know how it goes...). So onwards and upwards. Let's get a handle on this fabric madness. Maybe this list will keep me motivated, accountable and most of all ON TRACK.
1) Finish test project one
Done!
2) Superhero costume/pj x2 (Batman and Robin. By Wednesday. Ack!!!!!)
Done!
3) Finish test project two
Done!
4) Crayon roll promised to good friend's little ones
5) Pillow cases x2
Done!
6) Spring top one
Done!
7) Summer pjs x2
8)
Blanche Barrel Bag
9) Summer Dress for me - can't decide what to do with my bright yellow floral... another
Rebecca Shift
, a
Jamie
with a 1/2 circle skirt, an
Jenny
with a 1/2 circle skirt or a
Carolina Mae
. Maybe I'll just let the boys pick out the pattern too.
10) Baby gifts x 2
Done!
Oh and because I'm nothing if not crazy when it comes to crafting I'm also in the process of knitting a pair of socks for a test pattern
and
another pair of socks just because.
If you're looking for me, I'll likely be in the corner buried under stacks of fabric and tangled in sock yarn...