So, I feel it's time to show off some of my accomplishments of late!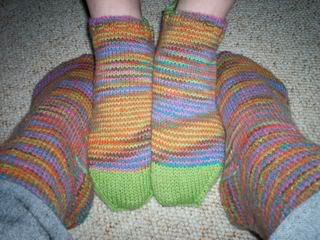 First off, I finished the second Hot Tamale Sock awhile ago, and decided to make G a pair of ankle socks with the left overs. I finally got them finished last Sunday morning while watching Coronation Street. Amazing that I could knit with all the stress over Ronnie trying to get poor Steve blamed for the hit and run - I never did like her one bit. Sorry... I digress! Back to knitting. So as I was saying I finished her socks and she's quite pleased with them, as I am with mine, although truth be told, they're a wee bit baggy, but that's ok. They're cozy and colourful to say the least!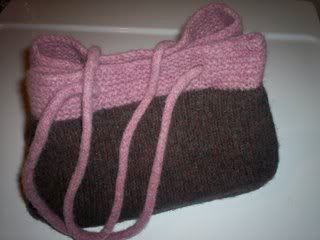 Next on my list is my brown and pink purse that was originally destined for the International Tote Exchange. However, after felting it, I decided it was a little small for what I thought my partner would like and I decided that I would just keep it. And no, G if you're reading this. This is my bag. I am NOT giving it to you and no, you may NOT steal it either. I'll be watching you. Remember... Mom's see all and know all. Ooops, sorry. I digress again. It's just that I live with a knitted item thief and I have to keep a close watch on her or my knitted things tend to wander down the hall into the abyss of her bedroom.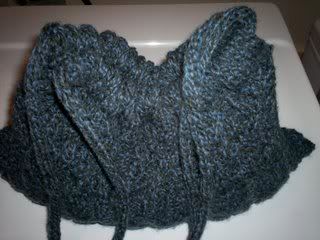 Moving right along is the tote that's going to a new home. I love this tote! It's big and roomy and just feels right! I have plenty more wool where it came from (a random purchase of about 8 balls of Paton's chunky last summer - the tote only took two) so I probably will make one for myself. Although G was eyeing up this one too. I'm telling you... I have to be constantly on my guard against eyelash batting and flattery. "Oh, Mom... I love that! Can I have it? Please? Can I just borrow it?"
Now for my very favourite WIP! As I mentioned in my last posting, my very fabulous SP8 partner gave me a delicious ball of Rowan's Kidsilk Haze. I'm in love with this yarn. I really am. It's beautiful and it's like knitting with a cobweb it's so fine, but it's so soft and is working up surprisingly fast despite some issues with dry skin (bad combo - fine yarn and lizard lady skin) and losing a stitch and then having to try and frog back to find where it went. I definately don't recommend frogging this particular yarn! I'm loving the easy lace work of MagKnits
party lace scarf
So there you have it! That's what I've been up to lately!