I had a rotten day. I will not go into details, suffice it to say though, it well and truly sucked. I was feeling sad and sorry for myself. But then I got home. Waiting for me on the kitchen table was a super duper surprise from my wonderful SP! Just take a look!!!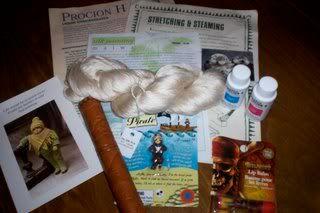 Yes. That there skein of loveliness would be sea silk from a shop which is local to my partner. Along with the silkie goodness is some dye in which to hand paint it (and the instructions to go along with it). My partner also sent along a magnet with the cutest sea otters on it from the Vancouver Aquarium (I've seen the otters in person and they are really quite sweet swimming around holding each other's hand). I also received a wonderful case for my DPNs (with a great set of sock worthy needles inside it) It's actually a cigar case but is just perfect for DPNs... No more losing them! Wheee! And because it's a cigar case and says Cuba on it, my partner went on a bit of pirate theme and sent me a Pirates of the Carribean Lip Balm and a grow my own pirate. How much fun is that I ask you? So you can see why my day instantly perked up and I felt loads better! Oh and you can't really see it maybe, but the card is really cute too! Thank you my wonderful SP whoever you are... You are awesome!!! (My SP is very good at not giving me any clues, so I am completely in the dark about real identities here)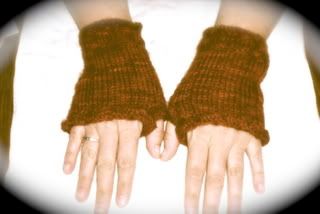 Don't mind the picture - I was trying to get creative with I-Photo and can't seem to get my original back. So here's my Fetching that I made on the flight from Toronto to Lima. I somehow forgot to do one pattern set so they're a wee bit short in the wrist but that's ok. I love them anyways and wear them every morning, now that it's gotten so cold here in the wee hours! They are knit from Aruacania Nature Wool. I must remember not to throw them in the washing machine like I accidently did to my Clapotis. Sniff, sniff. I am not quite over that one yet! Note to self. Next time I need a wool that felts in an instant, in cold water, choose Aruacania Nature Wool. Yes indeedy - it felts like a charm. Sigh.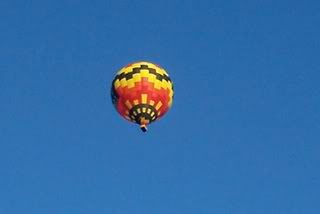 Last but not least. Here is a picture of a hot air balloon that was flying over my house the other night. The sky was what I always think of as a Prairie Sky - crystal blue without a cloud in sight and the balloon was so low you could hear the whoosh sound that the flame makes when it goes up into the balloon. Ain't it purdy??
And by the way, check out Bezzie's blog
"Random Meanderings"
. She's reminding every woman to get their annual pap test done! Such an important thing to do yet so many women fail to do so for whatever reason. Please remind your aunts, sisters, girlfriends, daughters, all the women in your life to get checked. It only takes a short time and could save your life. Thank you Bezzie for taking the time to remind us all!