Tuesday morning I found out just before heading out the door for work that Grandma had passed away. I was heartbroken to get the news even though it was expected. That day, work was stressful. I was having a hard time coping with my very personal loss, and to compound that I was faced with the reality that there are people out there in the world that are so concerned with themselves, that they can't be bothered to stop and think what someone else might be going through at the time. Fast forward through a gruesome afternoon at work, where I was told "sorry to hear about your grandma, but this project is priority." A project that I am convinced wouldn't have been necessary had that particular person done their job more carefully in the first place. However, I swallowed the lump in my throat and proceeded to go about my job. But after hearing for more than the first time that day, "Well she was old" in a way that suggested that really it didn't matter that I'd lost someone very near and dear to my heart. Needless to say by the end of the day I was feeling pretty low.
I waited in the cold for the shuttle bus, then finally got on it amongst the Tuesday 4:00 pm crowd. The ride felt longer then ever that day and when I got to the van I just wanted to go home and have a good cry. I started the van then noticed a paper flapping out from under my windshield wiper. Out I got, grabbed the paper and climbed, shivering, back into the van. I opened the sheet up and found this: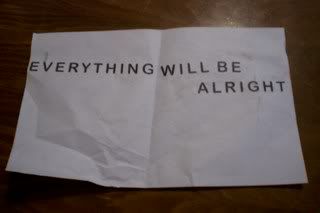 I looked around and wondered where it had come from, but couldn't find any clues. The next day the Free Press ran a story about it. The art department at the university decided to randomly distribute happy thoughts to 1000 cars on campus that day to cheer people in the minus -45C weather. What they don't know is that it was just the message I needed at that particular moment. What are the chances that out of thousands of cars, someone chose that saying for my car when I needed it the most. The world works in mysterious ways.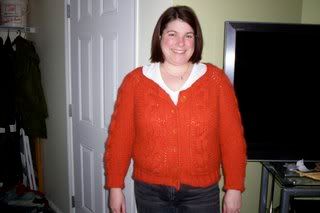 Now - onto the more ordinary matters of my knitting life. I finished my cabled cardigan last week, but was unhappy with the finished product. Something about the neckline was bugging me. Turns out all it took was a crochet hook and a few minutes to whip around the edges and now I like it just fine. It's a bit short for my tastes, but it's cozy and warm and here that's what counts!
I also ripped out my entire purple hat, because there was something drastically wrong with the size of it. Turns out in the first draft I inadvertently left out 10 rows of the pattern. 10 ROWS!!!! It's much better now and fits wonderfully!
I decided to make a couple of dish cloths for my Knitty VD swap partner. I hope she likes them. I used the Lacy Round pattern from
Knitting Pattern Central
and the Mason Dixon ball band dishcloth pattern (also available free at Knitting Pattern Central! The picture turned out kind of dark, but I used Bernat's Patio Pinks for the lacy one and the ball band one is a combo of Patio Pinks and Pink. Very fitting for VD I figure!