Darcy
has been such an incredible swap partner in the
Longing for Spring Swap
. Right as the swap was beginning she went to have what was to be a fairly standard (from what I understand) surgery. What it ended up being was an experience anything but standard including a horrific and frightening sounding trip by ambulance to emergency. Darcy has been trying to recover from all this while looking after her little ones and yet she has still found time to spoil me in a spectacular manner! Relying on online shopping she has sent me two wonderful treasures so far and promises a third (customized just for me - like her other two gifts have been!) parcel is on it's way in the next week!
I was going to wait until I had all three parcels to show, but then decided I'd like to show off my gifts now because they are just to wonderful not to!
Parcel number one contained stitch markers. Not just any old stitch markers but yellow tulip stitch markers!! Tulips are my very favourite flower of all time and yellow ones are especially wonderful in my mind!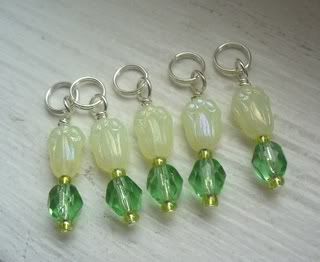 They are absolutely awesome! I LOVE them!!!
Yesterday's post had an equally special treat in it for me too! I got home to find this: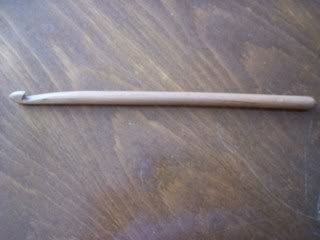 Which is an antique wooden crochet hook. I had mentioned that I want to really get into crocheting but all my hooks are old and bent up (they were a donation to me from a co-worker and although lovely of her to give them to me, let's just say they don't inspire me very much!) Let me tell you though, I think this is going to be the hook that gets me hooked so to speak! I love wood knitting needles - and I know I'm going to love this hook. It's smooth and feels well worn and wonderful in my hand - and I love the stories I've been making up in my head about it's past. I think it's grand fun to imagine the previous owner making blankets for her family - or as Darcy mentioned, maybe it could be used for rugs. Whatever the case I love things with a history and this fits me perfectly!
I have to wonder if Darcy is somehow living in my head? She is so incredibly thoughtful and awesome!!! Thank you, thank you, thank you Darcy!!!!!