Two weekends ago was our Canadian Thanksgiving weekend. I love long weekends for getting lots done! I managed to finish the knitting and most of the finishing on the Cambridge Jacket for (BF)G - it fits really well and he's quite happy with it, thereby making me quite happy with it! Finished the knitting and
most
of the sewing on the baby sweater for my neice and made a pair of mittens for myself to match my cabled hat from last year - the mittens I'd made last year were ridiculous and only fit for frogging. This year's are much better! I was also able to finish the second clue on the mystery sock for Soctoberfest. Because I was so productive I allowed myself to cast on another project.
Mr. Greenjeans
from
knitty
has long been a coveted project for me.
During the week that followed I managed to buy a zipper for the Cambridge Jacket, complete clue 3 on the mystery sock - I LOVE the "eye of partridge" heel flap (it looks so much nicer than my usual standby heel flap, which is only slightly different then the eye of partridge one, but looks nowhere near as nice!) - and I continued to work madly away on my Mr. Greenjeans.
This weekend, Saturday was almost a complete write off in terms of accomplishments. G had a competition and of course since I somehow got on the committee for doing registration again this year (note to self - in future, do NOT miss important meetings where committee positions are being handed out!!) I ended up there for the whole day. Sunday, I decided that the housework had been neglected for far too many days and it was imperative that I get something done. The state of my kitchen was beginning to remind me of a story from when I was a small child. The story was of a man who wouldn't wash his dishes and ended up using flower pots and ashtrays, and so on and so forth. So I resisted temptation, did not pick up my knitting and instead spent a couple hours doing a good thorough cleaning of the house from top to bottom.
As a reward for my good behavior; however, I spent the next couple of hours curled up in the armchair knitting. Greenjeans is coming along quite nicely and so far I'm really enjoying it.

So for the pictorial summary of my knitting over the last week here goes:

Cambridge Jacket - done even the zipper is now in!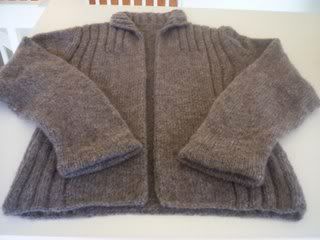 Baby sweater for Oona
- done except I now hate the buttons I'd originally chosen from the myriad of choices in my button box (have I ever mentioned how I had a slight problem... urm... perhaps addiction is the better term... with buying buttons a few years ago?) so I have to dig some new ones out to completely finish it.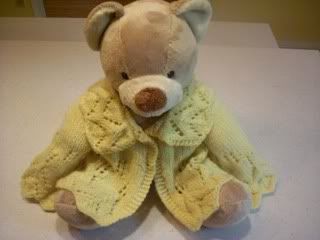 Mystery sock
- clues 2 and 3 all finished!
Mittens
- oh purple mittens how I love you! Especially since the morning after I made them I had a good hard frost to scrape from my car windows!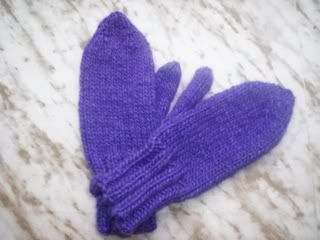 Greenjeans
- I'm loving you too! (weirdly enough I took this picture on my white counter top last night and the yarn is actually a heathered purple. Oddness in photographic colours indeed!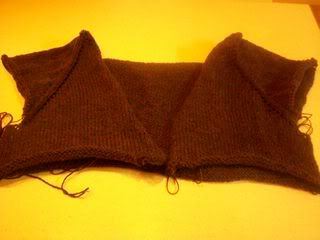 And since I'm a proud momma - this next picture is just to show you my girl looking pretty in her kilt at the competition on Saturday!
All in all a pretty productive week I think!