One one my favourite things to make (and eat!) are chicken sandwiches. They're quick, easy and have just the right amount of spicy kick to them. You can grill the chicken, but in this house BBQ-ing is a man's job - to be honest it's only because I'm a little terrified of lighting the thing, so I just broil mine. Much easier (and considerably less scary than dealing with propane and a lighter).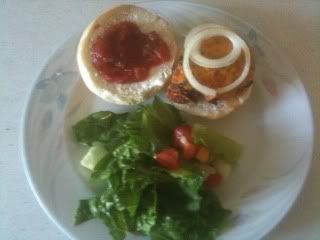 Mmmmmmm... Spicy Chicken!
Spicy Chicken Sandwiches
4-6 boneless, skinless chicken breasts
1/2 35g. package of taco seasoning (I use Old El Paso reduced sodium but you could use any kind or make your own - let me know if you have a great homemade version!)
1/2 - 3/4 cup grated Parmesan cheese
Cheddar cheese, grated
Salsa
Onions
Tomatoes
Lettuce
Mayonnaise
Buns, split in half (I prefer homemade using my bread machine - recipe below)
Heat oven to broil while you prepare the chicken.
In a medium sized ziploc bag combine cheese and seasoning. Coat each piece of chicken one at a time by placing it in the bag and shaking it. Put coated chicken on broiler pan (or heated BBQ grill) and place in oven on rack set so the chicken is about 5" from broiler. Broil until chicken is done. Time varies with the thickness of the chicken pieces, but I find checking them after 15 minutes to work well. Once chicken is cooked, slice each breast in half, sprinkle with grated cheese and return to the oven to melt cheese.
To assemble spread split buns with mayonnaise, put on half of a chicken breast, a dollop of salsa, some sliced onions (and tomato slice and lettuce if so inclined). Serve with homemade fries or a green salad and you have a perfect fun Friday night (or any night) meal!
Note: for Baby Boy and Little Toddler Man I coat their chicken with just Parmesan and skip the salsa to make it easier on their little tummies.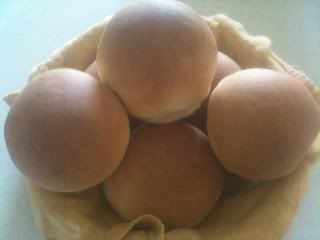 What could be better than fresh from the oven buns?
Bread Machine Buns
1 cup warm water
3 TBSP sugar
3 TBSP oil (I use Canola)
1 tsp salt
3 cups white unbleached flour
1 1/4 tsp bread machine yeast
Place ingredients in bread pan in order given. Place pan in machine and set to dough setting. When the dough cycle is finished turn dough onto a lightly floured board. Cut into eight pieces and shape into round buns. Place on parchment (or cornmeal) lined baking sheet, cover and let rise in a draft free (or in this house more importantly a thieving dog free) spot for one hour. Preheat oven to 375F (190C) and bake buns 16-17 minutes until golden brown on top. Cool on wire racks.
I use this recipe almost daily shaping it into hamburger buns, dinner rolls, hotdog buns and bread depending on what we need.
Hope you enjoy this as much as I do!