A wet bag is a great idea. When Baby Boy was in cloth diapers I kept intending to make some to have on hand, but I kept forgetting (no idea why, just did) so there were a few times when I was stuffing a wet diaper in my my bag hoping no nastiness would leak out during the rest of outing. Other times plastic bags sufficed, but I think I would have liked a wet bag. Now that both LTM and Baby Boy are potty trained I should still should have at least one or two for those rare accidents when we're out and about. It'd also be handy for wet swimsuits!
When I set about making a gift for a cloth diapering mama friend of mine's new baby I started with the obvious choice. I made her little munchkin one of my one size pocket diapers. I hummed and hawed as to what to send with it. Finally settling on a
Snappy Wipe To Go
- an awesome little PUL outer washcloth designed by my friend Christine. (These little cloths are great. Took me all of about 15 minutes the other morning to make one for the boys' lunch bag before we headed into the city for the day. Go check it out. I highly recommend it!)
Then I thought why not make it a whole "diaper change to go" package and include a wet bag. There's loads of tutorials online, but I decided to do my own version, mostly because I didn't feel like spending all my precious crafty time searching google for exactly what I wanted.
O/S Pocket Diaper, Snappy Wipe to Go (pardon it's wrinkles my iron died mid project) and wet bag
So here it is! Grab your supplies, and get sewing! It'll whip up in no time! I'll give you two versions for the hanging loop. The first one will have snaps, the second one will be a plain loop. I'll also show you two different bottoms for your bag! Hey! And guess what. Because I'm doing two variations after I'm done today's tutorial I'll finally have a wet bag for my very own! Wheee!
WET BAG SUPPLY LIST
Ballpoint needle
Polyester thread
Sewing machine
Polyresin snaps / snap pliers (optional)
Iron - low setting, no steam
1 zipper (at least 23" length - longer is ok, you can trim it down to fit)
1 piece main colour PUL cut to measure 13 1/2" tall x 10" wide
1 piece main colour PUL cut to measure 7 1/2" tall x 10" wide
1 piece contrast PUL cut to measure 6 1/2" tall x 10" wide
2 pieces contrast PUL cut to measure 2 1/2" tall x 4 1/2" wide (version A snapped loop only)
1 piece contrast PUL cut to measure 2 1/2" tall x 8" wide (version B non-snapping loop only)
NOTES:
1) Just a quick note about dimensions of the front pieces. This is a great stash buster project so feel free to make your contrast piece narrower if you'd like to suit your fabric. (Remember, a narrower contrast would also change the placement of the zipper closer to the top of the bag.) Just simply adjust the bottom main portion to accommodate the smaller contrast. Your contrast and main pieces need to equal the height of your longer back piece. Have fun and get creative!
2) Pins and PUL are not friends. Pins will leave holes that can lead to leaking. If you feel you need to use pins go ahead, just keep them within the seam allowance!
3) Some PUL can be "sticky". If you find this to be a problem you can try a few tricks. Try dusting your PUL with baby powder, using a layer of tissue paper (just tear it off when you're finished), or use a Teflon foot if you have one (I've never done any of these although it was close with my elephant PUL. Fortunately the green wasn't sticky so I just flipped everything over and sewed with that side facing up and everything went fine!)
You should have a collection of pieces that look something like this!
INSTRUCTIONS
Step 1 Version A - Preparing the Snap Loop
Fold one 2 1/2" end to the wrong side of fabric by 1/4" then fold 1/2" in down each long side of loop piece to meet in the centre. Next fold entire strip in half so that you have a long, narrow strip. Carefully press using an iron, on a low setting with no steam. Edge stitch down each long side. Repeat for second loop piece. Apply snaps to finished end according to manufacture's instructions so that the caps face the outside and the socket and snap face inside(the ends that have raw edges will be sewn into the side seam of your wet bag so no need to finish them). Snap the two strips together, align the raw edges and baste together if desired. Set aside.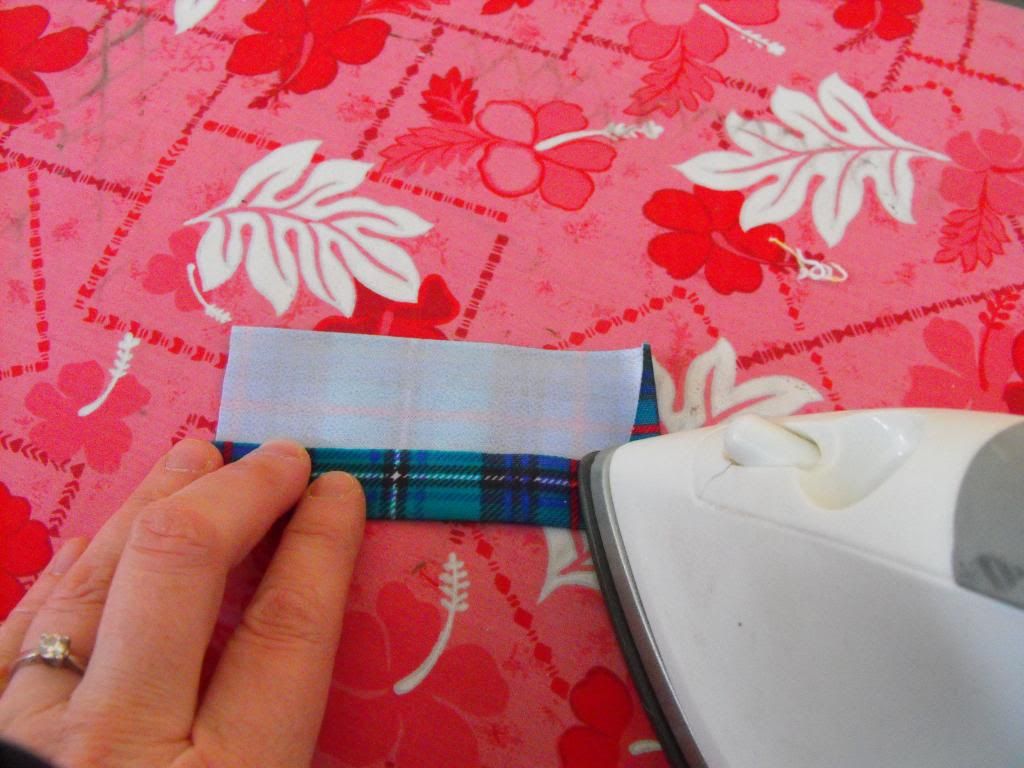 Preparing the snapped loop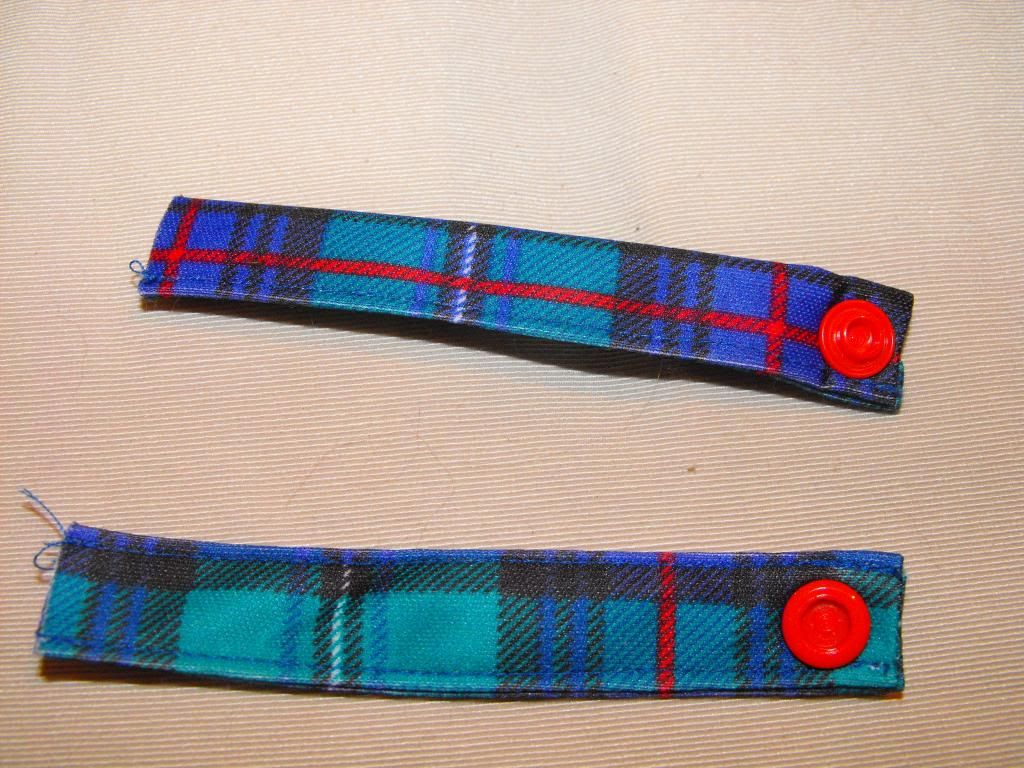 Two halves of snapped loop ready to go
Step 1 Version B - Preparing the Plain Loop
Fold 1/2" in down each long side of loop piece to meet in the centre. Next fold entire strip in half so that you have a long, narrow strip. Carefully press using an iron, on a low setting with no steam. Edge stitch down each long side. Fold strip in half so that raw edges on the narrow end line up. Baste if desired and set aside.
Plain loop ready to go
Step 2 - Preparing the Bag Front
In this step you will insert the zipper. This is likely the trickiest part of making your wet bag!
If you need to cut down a larger zipper, simply stitch and backstitch across the zipper tape at the measurement you require, then trim excess leaving a slight surplus. (Note : this works for light nylon or plastic zippers. I wouldn't try with heavy plastic or metals zippers. You will break your needle. Trust me on this.)
Place the right side of the zipper tape face down so that the edge of the tape aligns with the edge of the shorter main colour PUL piece. Stitch carefully close to the zipper teeth using a zipper foot on your machine. Flip zipper tape and seam allowance of PUL to the inside. Lightly press - remember to use a low setting and no steam if using your iron - or finger press, then topstitch. Repeat process for the contrast PUL piece. Baste down the sides of the PUL where the zipper ends. Your front piece is now complete. (*just another quick note - it really doesn't matter which side your zipper opens from. I inadvertently did one of each, but I think if you're planning on hanging your bag on a hook, the opening would be better on the opposite side from the loop like in the elephant bag)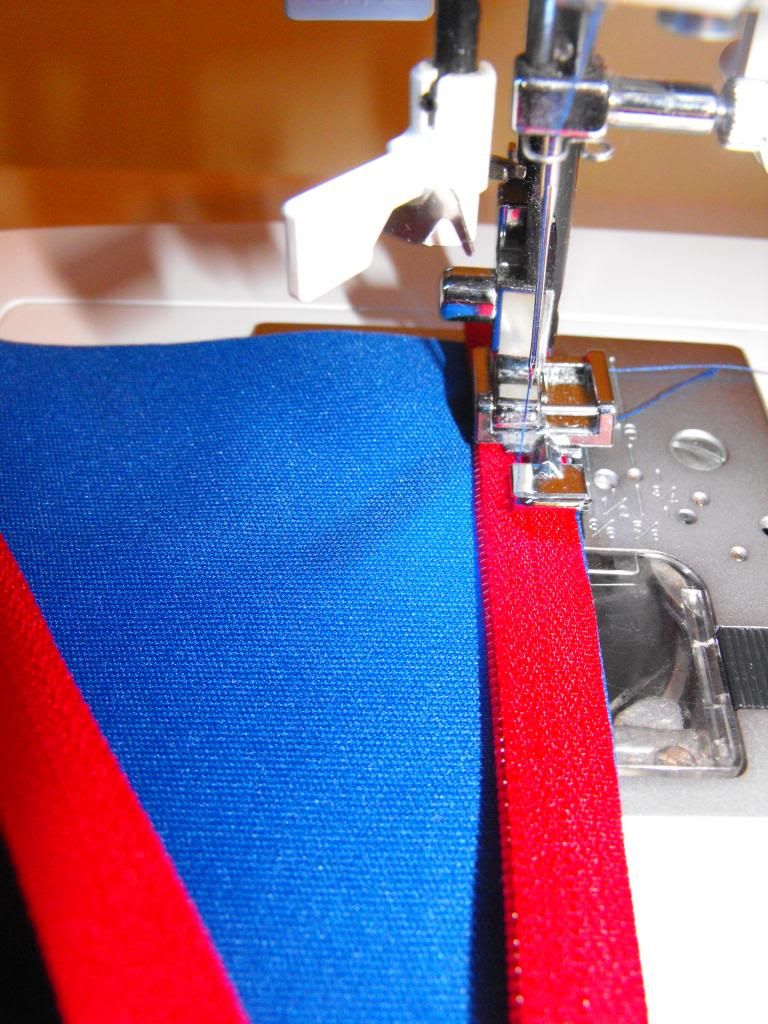 Attaching the zipper
Edgestitch on the right side
This is what it should look like
Next baste your prepared loop so that the raw edges align with the long edge of your newly finished front approximately 1 1/2" from top of contrast portion of front, right sides together, with the loop pointing towards the centre of the front piece. Baste.
Basting the loop onto the front piece
Step 3 - Assembly of the Bag
Open zipper partially. (This is so you can turn your bag right side out - you do not want to forget this step. It will lead to frustration and the need for your stitch ripper)
Place prepared front and remaining PUL piece right sides together. Stitch around all four sides using a 1/2" seam allowance. Reach into the bag through the open zipper and flip your bag right side out. You're done! Wasn't that easy?
Stitch around the entire outside of the bag but make sure you've left the zipper partially open before you start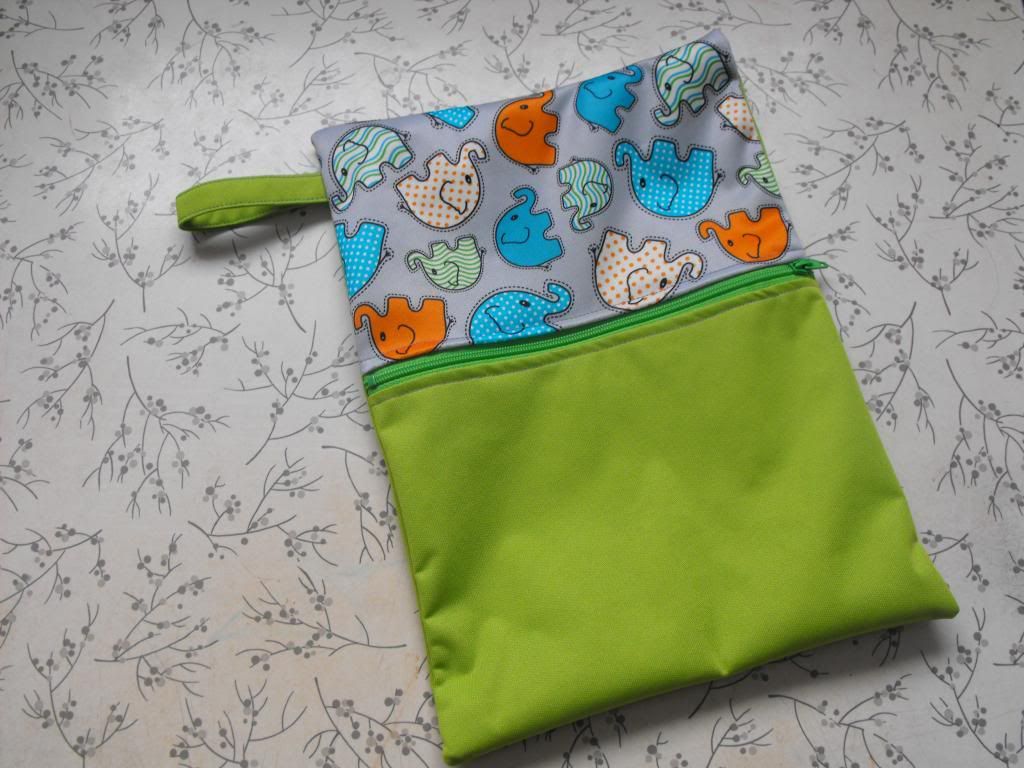 Handy dandy wet bag all finished
Variation
If you want to get fancy on the bottom of your bag let's do something with those corners to create a flat bottom! With your bag still inside out, pinch the corner together, lining up the seam allowances, to form a triangle. Measure 1 1/2" from the edge and draw a line across from side to side. Stitch along the line and trim excess. Repeat for other corner. Now turn your bag right side out. You're finished!
Pinch the corners together and mark 1 1/2" from edge then draw a line from side to side forming a triangle
Stitch along the line and trim excess
Voila! Finished!
Now, quick! Go stash it in the diaper bag or your purse so that you don't get stuck at Kindermusik class gingerly stuffing a very wet, slightly dirty diaper into your purse while you hope nothing leaks onto your wallet, keys or gum. Or maybe those sorts of things only happen to me...