Once upon a time, long ago and far away (it was in the late 90s) I bought a pattern book full of gorgeous Lopi sweaters. The first pattern particularly caught my eye. It was a beautiful, cozy hooded pullover (and no steeking involved - huge bonus points for that!!) But it never got knit. I could never seem to justify the purchase of so many balls of yarn when I purchased the book. I was a single mom trying to raise three kids on a telemarketer's salary of $6.00/hour. Extras for me just weren't to be had. Then over the years I sort of forgot about it. It was still there in the back of my mind, but it was definitely on the back burner for "some day".
Then a few years ago my good friend Kristy lost her beautiful mama suddenly. She and her brothers rounded up the knitters they knew and told us to please come over take what we wanted from their Mom's amazing stash of yarn. Their Mom was a prolific knitter and a lovely person. I was honored to have the yarns that she had chosen with such obvious care. I suddenly found myself with a windfall of Lopi yarn and that pattern book that had been quietly whispering my name for over a decade began shouting at me and I decided to cast on in June... Of 2010.
The sweater was fraught with disaster. I cast on in the wrong colour, I made mistakes, read charts wrong, had a reaction to the yarn at one point just to mention a few of it's trials and tribulations. Here is an excerpt from my
project page
on Ravelry dated May of 2011:
"This sweater is going to be the end of me!! I started working on it again this week and was almost done. Then the dogs got my pattern and ate the part I need. Now what the heck am I supposed to do. Oh. And size wise. It would have fit me better if I was oh… you know… about 5'2" instead of 5'6" and while we're at it lets just say I'm about 30 lbs to heavy for it too. ARGH!!!!!!!!!!!!!!!"
This was all that remained of my pattern
At that point the blasted thing got shoved in the closet. I had no idea what to do with it. No one else had it listed on Ravelry at the time (there's one other now) so I was stuck.
Then a little while back a thread popped up from a poster on Ravelry wondering how to replace her pattern that her dog had eaten. Someone suggested contacting the company or designer. D'uh. How had this not occurred to me. I sent off a quick email to
Istex
one morning explaining my doggy tail of woe and within minutes had an email back with a PDF of the pattern! Really. How did this easy solution never occur to me??? I was so happy that I was going to finally get this wooly monkey off my back.
Not so fast... This, after all, did not earn the name the sweater of doom for no reason. There I was, blithely zipping along through the knitting of the hood when I stopped to admire my handiwork, ready to give myself a congratulatory pat on the back. I looked. I cocked my head to the side, I squinted, I peered, I closed my eyes and opened them again, willing it not to be true. Alas. It was right there plain as day. I'd started the bloody thing two incredibly noticeable stitches off center. Rip, rip, rip. Seven or eight inches back I went.
I'm thrilled to say it's done now. Its been done for a few weeks actually, but I've not thought to write about it until now because, well, I'm still a little bitter towards what should have been such an incredibly easy pattern so thoroughly kicking my knitterly behind. Also it took forever and a blooming day to weave in the six bajillion ends.
Finally finished on a blustery cold winter day 2 1/2 years after first starting
G, who is considerably smaller than me has claimed it happily as her own and the pattern book has been stashed on my bookshelf (possibly never to see the light of day again - did I mention I'm a touch bitter?)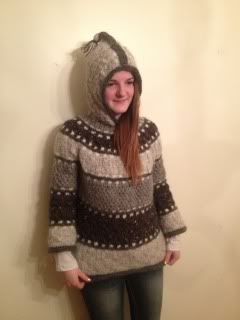 Hmmmm. The curse continues... Those sleeves are a bit short aren't they?
My girl does love her hand knits though!
Knitting disasters like this can really shake a crafty gal's confidence, but just like falling off a horse (which I've come close to doing but thankfully never actually have because that sounds like it could
really
hurt...) you just need to get back in the saddle again. I have and I have had some wonderfully happy results in the last few weeks. It feels good. I'll have to tell you about them another day though. I think Little Toddler Man and Baby Boy may be dismantling the furniture or re-wiring the house right now. They are just far too quiet to be up to anything good. Must dash and investigate!