First let me say I love
Sew Liberated
. Remember these projects?
The Play Tent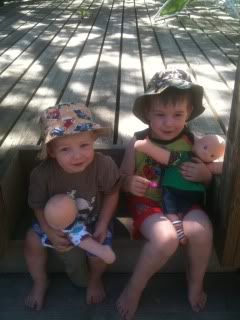 The Little Amigo Dolls
Both were from the book
Growing Up Sew Liberated
. I love that book! It's by far my favourite sewing book - so many great ideas in it!
I've known about Sew Liberated since I stumbled across her
Schoolhouse Tunic
a few years. I've been coveting it since I first clapped eyes on it, but kept putting it off. Then a few weeks ago, on a lark I decided to fill out the order just to see what shipping was. So often shipping to (or within Canada) is crazily expensive. But lo and behold it wasn't over at Sew Liberated! Not only that, my pattern popped up on sale! After that the order just sort of placed itself. (Funny how that can happen). But it was fate. Wouldn't you say?!?
Pattern ordered I had to set to work finding fabric. I wanted something special. Not just something on sale from the less than stellar local fabric store chain in the city. Off to Etsy I went. I adore Amy Butler Fabric. ADORE it! But never splurge on it given it's usually higher price tag, plus once you factor in the whole "shipping to Canada" matter it gets totally out of reach for this SAHM's justification. However, the gods of fabric were smiling down upon me, because I found Amy Butler's Trailing Cherry in brown for a fabulous price with inexpensive shipping (love Etsy!!!!); a quick convo with the seller to see if they had two yards and the fabric was ordered!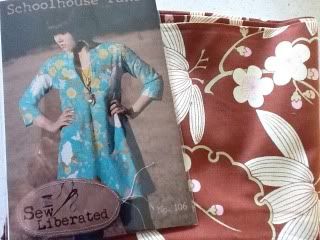 Ready to go!!
With some reservation I measured myself, compared with the pattern and cut it out. I didn't want to mess with my Amy Butler! I squeaked the pattern out of exactly 2 yards with about an inch of fabric left over. Feeling pleased, I waited until every one went to bed and started sewing.
The pattern instructions are incredibly thorough. So very detailed that even the newest sewing beginner could make it. I was impressed. A little nagging voice in my head kept whispering that things were looking a little large and placement of a large box pleat at center back... Not such a flattering location. But I pressed on. The hour grew late, so I put it aside until the next day.
I was still anxious about the fit so the next day I basted the skirt part on, ran upstairs, tried it on and groaned. It was huge. Like a tent. A ten man tent. And that pleat situated squarely on my backside? Yikes. You don't get pictures of that. My ego couldn't handle it.
Image via Pinterest
Back to the machine I went. Unpicked bodice side seams and skirt removed from tunic, I restitched. This time with about three inches less width throughout, (seriously! I took off at least an inch and a half per side) but I left the box pleat on the back. Why?????????
Back to the drawing board. I tried again, this time taking out the pleat and gathering instead. Yes. Because a big poofy gather is a splendid idea. NOT! Then I tried a more subtle gather across the whole back. It then hit me as I stood in front of the mirror thinking perhaps I should just scrap the whole thing, that perhaps the key was to take out all the fullness across the back of the skirt. Ding! Ding! Ding! We have a winner!!!!
I still wasn't terribly pleased with it - there was still something unflattering about the way it sat. I tried it on to show (BF)G and he looked for a moment and suggested folding the neck line open. I did and somehow it all came together for me into a top I could live with. And probably wear comfortably! About bloomin' time!!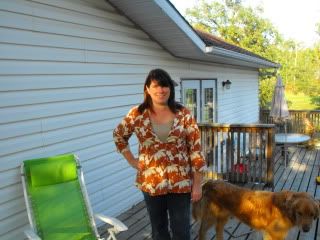 Full view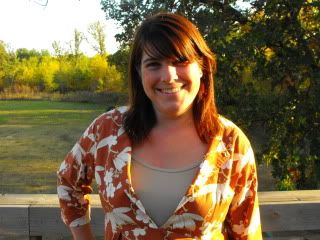 Close up of the new and improved (for me) neckline
Believe it or not, I think, armed with what I now know about the fit on me, I think I'd like to try another one. Maybe one for next summer using that gorgeous orange floral lawn I got with my birthday present from my mom. It was supposed to be for the
sorbetto
that never happened. Hmmmmmmm...