So here we are, Friday night and Giveaway Day is done.
I have had so much fun reading everyone's comments this week. It's been great hearing what your favourite childhood toys were. A common thread for many of you seemed to be that your favourite was something a loved one had made for you.
Reading all your comments inspired me to venture into the deepest darkest reaches of the storage area under our basement stairs to find my very own favourite childhood toy, Pinky.
Finding her wasn't easy... Let's just say I know what spring cleaning chore should be at the top of my list!!! Happily, though eventually I found her. She looks a little worse for wear, ok. I'll admit it. She looks a
whole lot
worse for wear, but let me tell you she saw a whole lot of love in her prime.
My Mom made her for me for Christmas - I think when I was a year and a half old (so she's about 40 years old now!) She was my comfort, my companion, my very best friend when I was little. I loved her so much I loved her face right off and Mom had to re-embroider it on. I can still remember the horror of realizing I'd forgotten Pinky in my cubbyhole one day in Kindergarten. I was certain tragedy would befall her overnight. Funny how some memories stick with you like that.
Pinky's not much to look at now in her stained, threadbare condition, face and hair mostly gone, but finding her this afternoon brought back such happy childhood memories.
Unfortunately I couldn't find a photo of Pinky in her newer days - I assure you she was as pretty a doll as ever was made with her bright yellow yarn hair, blue eyes and rosy pink body - but I thought I'd show you her in her well loved state.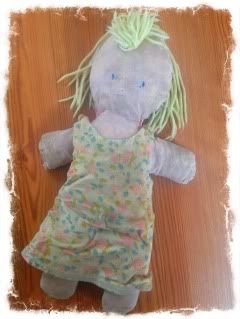 A very well loved Pinky
Anyways, before I ramble on much longer, I'm sure you're all waiting to hear who has won the little Flannel Friend!
I had started out thinking I'd write everyone's name on a scrap of paper, throw them in a hat and have the boys pick one, but it was getting close to bedtime, the boys were getting tired and I figured it may somehow dissolve into a meltdown, so I tossed that idea out the window and used modern technology instead. I googled "random number picker" and clicked on through to the first
hit
.
Voila. Drumroll please...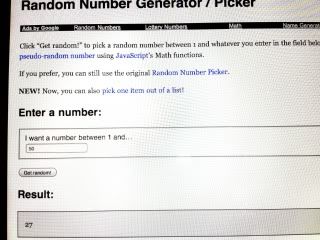 We have a winner!
The winner is commenter number 27!
Kelly said,
Oh my word! That doll is so sweet! My favorite toy growing up was probably the doll my mother made for me. I named her Deborah and dressed her in my baby sister's cast-offs. :-)
Congratulations Kelly! I'll be sending you an email shortly so that your Flannel Friend can go out in Monday's post!
Thank you everyone for participating and thank you very much for all your kind words about my doll!