I spent half of last week thinking about cupcakes. Not just any cupcakes. Chocolate cupcakes. Chocolate cupcakes kicked up a notch. Chocolate cupcakes involving bananas. And peanut butter... (sometimes my mind has a lot of time on it's hands apparently)
This weekend that vision became a reality.
I started out with my usual
chocolate cake recipe
, but changed it up a teensy, tiny bit. Then I made my usual chocolate buttercream, but changed it up a bit too.
Success. Sweet, sweet success!!!!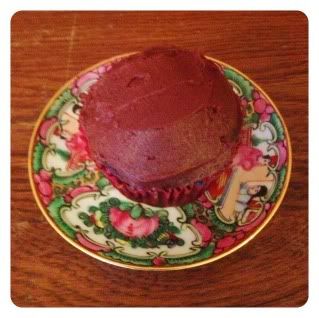 Mmmmmmmmmmmmm
Are you thinking about cupcakes now? Here's the recipe if the little voice in your head is now telling you that you
need
to channel your inner Elvis and dine on some chocolate banana cupcakes with chocolate peanut butter frosting.
CHOCOLATE BANANA CUPCAKES SUPREME
2 cups flour
1 2/3 cups white sugar
3/4 cup butter or margarine
1 tsp salt
2/3 cup cocoa
1 1/3 cup milk
1 1/2 tsp baking soda
1/2 tsp baking powder
2 eggs
3/4 cup mashed ripe banana
1 tsp vanilla
Pre-heat oven to 350F (170C)
Combine all ingredients into mixing bowl, beat with mixer on medium speed for two minutes until creamy then divide into muffin tins lined with cupcake liners. Bake for approx. 20 minutes
When cool finish off with the pièce de résistance - chocolate peanut butter buttercream (unless of course you are serving these to anyone who may have a nut allergy. Just stick with chocolate instead. It'll still be great. I promise. After all cupcakes should be enjoyed happily and safely by all)
Chocolate Peanut Butter Buttercream
1/2 cup shortening
1/2 cup butter or margarine
3 TBSP peanut butter
1 tsp vanilla
2-4 TBSP milk
4 cups icing (confectioner's) sugar
1/3 cup cocoa powder
Mix all with hand mixer until creamy and smooth.
Enjoy!!!!