It was birthday time around here this past weekend. Little Toddler Man and I celebrated another year older on Friday. I suppose being four years old, means he's not really a toddler anymore, is he? Maybe he hasn't been for awhile and I've just been clinging to the idea that he's still little...
I thought I'd share some pictures of the fun with you!
I made the now traditional annual birthday crown. Little Man is thoroughly obsessed with dinosaurs right now, so it seemed fitting his crown be dino related. Volcanoes and lava are also very important apparently so I thought I'd incorporate that too. I was quite happy with the result, as was he!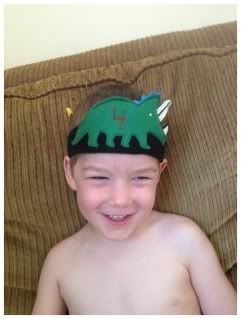 Rawr!
Volcanoes and Lava!!
On Friday night we had a small gathering with a few people that weren't going to be able to make it out for the party the next day. Little Man was excited to open some presents and have some cake, but it was a late night and the birthday boy ended up pretty tuckered out by the end of the evening.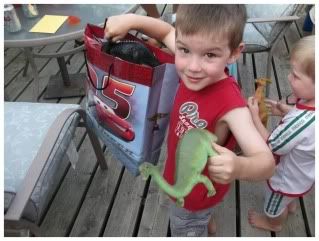 Whoot! Dinos!!
The Birthday Boy and his big sister G!
Birthday Snuggles from Aunty G!
The next morning J and his girlfriend arrived early in the day (thank goodness!!) and jumped right into helping prepare for the party! They also pitched in to help decorate the cake that was a volcano made from a layer of
chocolate cake
, a layer of homemade strawberry ice cream, a layer of homemade chocolate ice cream, which was all covered with chocolate buttercream and then covered in clodhoppers candies. Strawberry sauce stood in as lava and sparklers, candles and plastic dinos completed the cake that Little Man has been planning since about February.
Team Work!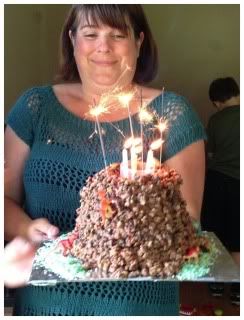 Sparklers in my face - not sure I like that much...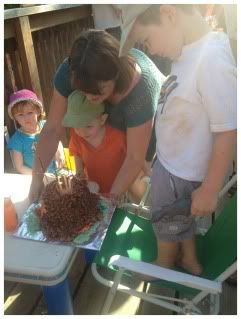 Ready to blow out his candles!
All in all it was a good birthday weekend, which (BF)G, Baby Boy, Little Man and I finished off with a trip to the beach on Sunday afternoon!
Fun on the beach!