I decided in the spring that I was going to do some selfish sewing to go along with my selfish knitting. Projects that were for me all me! So far I've done the
Washi Tunic
- which I absolutely love on really hot summer days, and two dresses.
Today I want to tell you about my new favourite dress pattern. It's the
Jamie Dress
from Sis Boom patterns. It's a fantastic pattern. For a PDF, the pattern pieces went together like a dream. Sis Boom makes it completely fool proof. There's no fiddly lining up of pieces or worse fudging pieces that don't line up together (I've had that happen before. Grrrrr). The sizing it great with many options to choose from. They have even included extra where needed in the bodice for us bustier girls. Love it! I didn't have to alter a thing in that department. The instructions are very detailed and very clear except for what appears to be a small typo in one of the directions where the seam allowance was somewhat unclear, but it was easy enough to figure out. (It's 1/4" in case you get stuck too!).
I could wax poetic about this pattern I adore it so much. In fact I loved it so much that the minute I finished sewing the first dress, I immediately cut out a second one. I never do that. (Ok. I do. If its for the kids and its a
Fishsticks Designs
pattern. But for me? NEVER!) Anyways. Onto the details!
The only modification I made to the first dress was to skip the zipper. I loathe doing zippers. They (and buttonholes) are the bane of my sewing existence, being never able to get them just perfect. Oh how they vex me. To ensure fit without the zipper, I sewed the bodice as instructed, then basted the side where the zipper was meant to be and tried it on. There was plenty of room to get in and out, which is important. I made a dress last year that I skipped the zipper on and I'm constantly getting stuck in it. It's not pretty.
The fabric is Happy Land Claudia in Sky Blue (by Jennifer Paganelli of Sis Boom). I was able to snag it on sale from
Fabric.com
back in the spring. I love the trailing flowers and their bright colours. A bonus was up until a few days ago I had two pairs of sandals that matched the fabric perfectly. Then the dogs ate one sandal. I'm still a tad bitter about that, but at least I still have one pair that matches perfectly!
I didn't have anyone over four feet tall at home to take pictures for me when I finished making the dress so Little Man (Oh how it feels strange to leave out the "Toddler" part of his nickname!!) took some for me.
A few of them were mighty unflattering - that happens apparently when taking pictures at that angle. Yikes! But I was able to save a few that aren't too bad and show the dress pretty well. As I said I love this dress so much that as soon as Little Man finished snapping pictures I went in and cut out a second dress.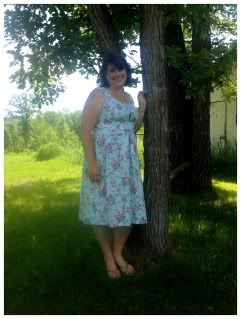 The second dress is made from a random very lightweight cotton that I got in the clearance section of my local fabric store. I had intended it for a different project, but then it seemed to say Jamie Dress to me so it's purpose quickly shifted. I had to fully line this one as it's so light it would have felt a bit indecent. I used an inexpensive cotton lawn that I was able to pick up in the city. I skipped the zipper again and added side seam pockets. I do love pockets on, well, anything. I had meant to put them on my first dress, but had forgotten until I'd sewed the side seams of the skirt using French seams. Unpicking them, it turns out, was far less desirable than having pockets.
I will admit to pretty much living in my second dress. It's lightweight and cool even with the lining, comfortable as pyjamas and I like to think pretty and feminine too with it's little sprigs of blue flowers and dots.
Again, I relied on my four year old fashion photographer for this next picture.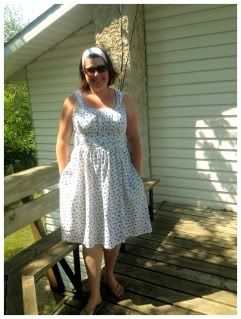 To wrap up, I can't say enough good things about the Jamie Dress from Sis Boom. It's well worth the $10 price tag - I got mine on sale so I feel like I got an exceptionally great find!! Anyone from beginner sewist on up to experienced will enjoy this pattern. Go forth and make yourself one. You won't regret it!
Next up I'll be making myself
The Honey Blouse
from Make It Perfect. I'll let you know how it goes!