First off, apologies for any potential weirdness that might occur in this post. I'm blogging from my phone. My Internet has died a mysterious and sudden death here at the house. All things look good, but nothing connects. It has been days. I may go mad. My phone only gets service sporadically here so I have no idea how things will work.
But enough of my griping and grumbling - let's talk about good things instead. I've got a brand new bag! It's another new pattern from Anna of
Charmed Liebling
called the Liebling's Bag! Such a fun bag! It sews together quickly, and features a outside zip pocket and two pockets inside - one slip pocket and one with an elasticized opening that will be perfect for my phone! Like all of Anna's patterns the instructions are really detailed and clear.
Liebling's Bag by Charmed Liebling
One of my favourite details of the Liebling's Bag is the gate rings that attach the straps to the bag! I had quite the time finding the rings, but I'm going to tell you exactly where you can get them so you don't do what I did and have to spend ages hunting high and low for them!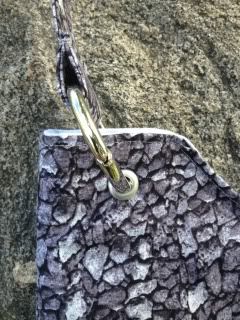 I really love the look of the shiny gate rings!
I first checked my local sewing shop. Nothing. Then I checked the one in the city. They had them but $10 felt a bit steep. Etsy and EBay both produced results but shipping from the states was crazy expensive (I might as well buy the $10 ones...) and my other options - from China - would take far too long to get here. I checked other places too. Walmart, Canadian Tire, even Dollerama. I thought all hope was lost. Then late one Saturday night I tried googling purse supplies. BINGO!!!!!!
Emmaline Bags!
Located in Alberta, Janelle has a great selection of purse making supplies all very reasonably priced. Best part (beyond great products of course) is shipping is inexpensive and FAST! I got my order within three business days!!!
I really like my Lieblings Bag! It will definitely be a go to bag this fall! And it will definitely fit all the essentials...
including
the fruit treats, hot wheels and super heroes as well as quite possibly a small knitting project. A girl can't ask for much more than that!!!
So jump on over to Anna's
site
to read more about this fun new bag and pick up the pattern for yourself! With the change in seasons - I saw a large flock of geese pass over the house today which means fall is setting in soon - it's always nice to treat yourself to a change of handbags as well!