Sorry. I've got Dolly Parton running through my head right at the moment. You'll have to forgive me if I break into song at some point along the way today.
The reason she's on continuous loop is my latest sewing project. Another gorgeous bag pattern from Anna of
Charmed Liebling
! You may have noticed I have a bit of a thing for her patterns. It's like an addiction. She sends a request to ask if I'd like to test and I'm helpless. I just love her patterns that much.
Anna has just released her latest,
The Working Girl Laptop Bag
this week and it's a beauty! Loads of pockets, a generous size - it even fits our somewhat large, somewhat ancient Toshiba, and great details such as piping (she guides you through making your own, or check out some of the other test versions! A couple testers used ric rac instead of piping and it looks amazing, another one did ruffles instead!) as well a locking clasp and swivel hooks so the strap is removable.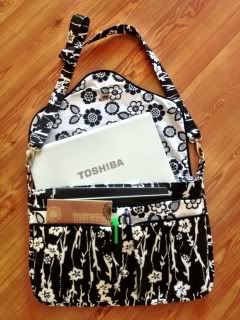 I was really excited to get the pattern to test. Not that I really need a laptop bag, but I just loved the look of it and couldn't wait to try it out. As per usual her pattern did not disappoint. She puts so much attention into creating instructions that make it easy for even an novice sewer to understand, with lots of explanation and photos. If you haven't checked out any of her patterns yet, I really urge you too.
And really, if you sew and you have anyone on your gift giving list that carries a laptop at all, I think this would be the perfect gift.
It's quick to sew up too. I only spent two days working on it, and part of that time was working up the courage to cut a hole in my beautiful bag to insert the locking clasp. Yikes! That is one heck of a nerve wracking task. Right up there I think with steeking your knitting. Well. Maybe not quite at
that
level, but close.
A word about locking clasps. It's come to my attention that not all clasps are created equal. Boo to that. I had ordered a locking clasp from
Emmeline Bags
when I ordered my gate rings for my
Liebling's Bag
, with the intention of using it on the
Necessary Clutch
I'm so smitten with. Then I got the project from Anna and thought I'd use it on my laptop bag instead. But. (There's always a but...) Then I was in the little fabric shop in town and spied locking clasps there. So I got one thinking I could use it for my laptop bag and the one from Janelle's shop for the clutch and I'd be covered on all basis. EXCEPT not all clasps are created equal as I mentioned. The one from the local shop is absolutely abysmal. Where the ones from Emmeline Bags leave a neat professional looking finish inside and out, the un-marked ones from my local shop are applied like a magnetic snap would be, which ends up with the prongs showing and worst of all it lends itself to fraying around the edges. EEEEK! So not what you want when you've spent time and money on a beautiful bag. Not only is it unsightly, it doesn't seem like it would be very sturdy. Unfortunately this epiphany did not strike until after I was already finished the bag except for the final step of the clasp - the locking mechanism was already in (with much cursing and usage of clear glue to stop the fraying - where the h-e-double hockey sticks did my fray check vanish too????) and I'd have to take the entire bag apart to use a different clasp. More clear glue was used and hopefully that suffices to keep any fraying at bay, but really. Don't waste your time. Go for the good ones and you'll be much happier. You'll want to look for one with a little screw on plate for the back. It'll make a world of difference to the finished product.
Anyways, despite my disappointment with my less than great quality locking clasp I am really happy with my laptop bag and how it turned out! Stylish yet functional and versatile. You can't beat that kind of combination! Head over to
Anna's website
and see the other test versions for inspiration then get working on a laptop bag of your own! (I might even use it as a knitting bag for going to knit nights! I could easily fit my ipad, a knitting project - even a large one, and all my necessities in the bag.)
And now, since I've been humming it in my head the entire time I've been typing, I'll leave you with this country classic from Dolly. You're welcome. :)