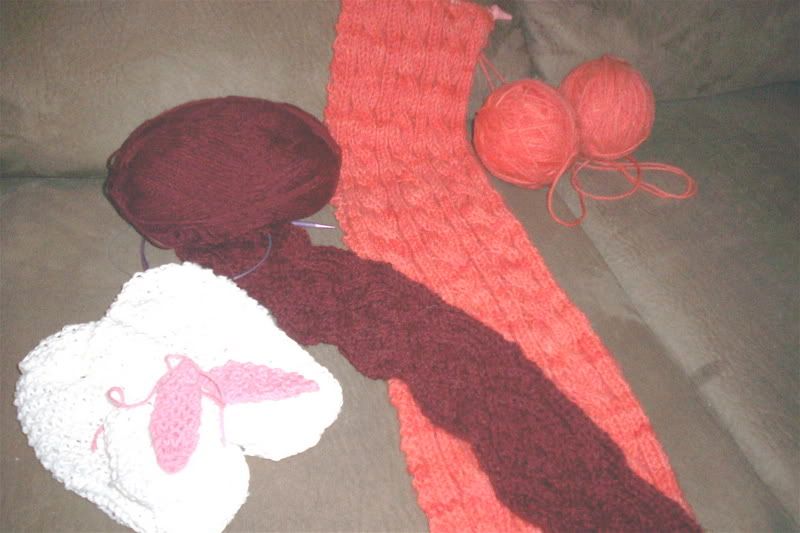 I have so many things on the go right now and it seems like nothing is getting finished! I'm not just talking knitting either!
I started the new job at the University this week! Yey me, for getting through week one! I think I'm really going to enjoy the job - just need to get my bearings straight and I'll be fine! Starting a new job is always hard! Meeting all the new people (and trying to remember their names), finding your way around, getting to know new software and procedures... it all takes time - or so I'm telling myself! Everyone's really welcoming and friendly though so that's great!
I now take the transit bus too instead of driving. Still getting used to that! With all the snow we had on Tuesday morning, I ended up late for work by about five minutes! Aggggghhhh. Late the second day. What a way to make an impression. I now take an earlier bus - some days it manages to get me there really early! Not sure how that works, shouldn't busses be fairly consistent? Oh well. As long as I'm not late again then it doesn't really matter!
I've started plugging away at my Philosophy course again. The one I was supposed to start in August. My first essay on Plato's Apology is almost done (finally). I am Queen of procrastination. There is no doubt about that!!!!!! I had all the intentions in the world of actually emailing the essay to the tutor before school started in September. Hmmm. Good thing for distance ed! Although I've got three more essays to do before the end of my course date, January 31st. YIKES! Why oh why did I sign up for this course???? After this one is done, and I WILL FINISH IT, I think I'll take a break until next fall. Then I'll just start taking courses at the U of M. It'll be better that way - won't allow for so much procrastination!
In knitting terms, I've got several on the go projects (see above pic!). My Irish Hiking Scarf is coming along nicely - I knit it on the bus when I can, and do at least a few rows every lunch hour. I think I should be able to finish it before the new year. Next on the list is Samus! I'm so slow with the cables and am only half way through the bottom band, but I shall perservere. It's not a race after all. I'm loving the way it's looking though so far! I think once I'm onto the body of the sweater I'll really get going! I am getting a little faster on the cables now too, so my goal is to be working on the body by next weekend. The little pile of white and pink in the picture is a pair of bunny slippers for (BF) G's niece Alex. I realized this morning that when the pattern said "make 2" for the ears, they really meant make 4 in total! Agggghhh. How silly of me! I'm planning to start baby nephew Robbie, and (BF) G's nephew EJ's bear slippers this weekend! They're pretty quick and easy so should be no problem to get them done! After that it's onto Interweave's felted old world booties for (BF) G's nephew baby Logan, and then what to make for the other two boys (ages 6 & 9)???? Maybe mitts are best? Maybe a hat? I just don't know!!
I am mailing my
coffee swap
partner's parcel today. It contains coffee (obviously), yarn (rather obvious again), yummy things and a few other treats! I really hope she likes it and it gets to her on time! I love the idea of swaps! This being my first one, I don't really have experience first hand, but living vicariously through others, they seem like so much fun! I signed up for another swap, as well, but it's a bit different! All I had to do was purchase a ball of yarn from
Pick Up Sticks
and the owner will send it to someone, and will send me a ball of sock yarn that someone else purchased for swap. It's exciting! The owner said she'd send out the yarn on December 1st. I can hardly wait to get my mystery surprise sock yarn in the mail! All the yarns that we could choose from were lovely, so I'm sure I'll get something wonderful. I chose Sweet Georgia's Handpainted in "chinois" for my swap. I hope whoever gets it loves it as much as I do!
Well, it's time to go start the coffee and get ready for the day! N goes to his last robotics class this morning, then it's off to the Tartan Tea with G, then tonight is (BF) G's work Christmas party. Somewhere in there, I'd like to get some housework done, get some groceries (I've got Old Mother Hubbard's cupboard this week and the kid's came back from their Dad's last night - so I really should have food in the house!), and of course I'd love to have just a few minutes to myself for "Knitty" purposes!