I am a very happy person these days! Why you ask? Because... Wheeeeee! I have a lawn! An honest to goodness lawn!!!!!
Last July we bought our house and the yard looked like this: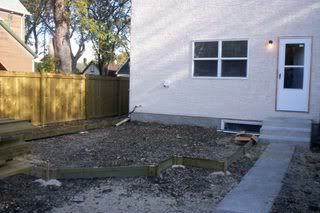 On Monday night our yard was transformed into this: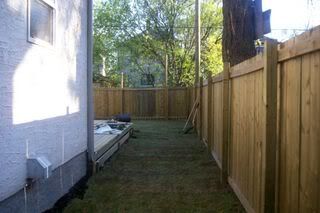 (Side view - but best light to show the grass!)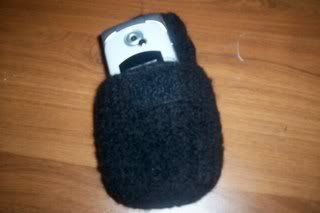 In other news I made another cel phone cover for (BF) G the other day. It seems to be a bit of a better fit than the last attempt. I used Paton's Classic Wool. Cast on 26 stitches on 5.5mm needles, divided between three needles, knit until appropriate height (about an inch taller than phone), knit strap by picking up three stitches at bottom of cover and knit until just slightly shorter than the top edge cast of these three stitches along with the corresponding stitches on the top edge, casting off all but 9 stitches, knit these stitches for desired length for flap doing slight decrease along the sides, cast off, sew up bottom, throw in washing machine and voila! A manly cel phone cover!
Last but certainly not the least... some Yarn PRon. OK, I know people normally do this on Fridays, but I couldn't wait, and I've never been a conformist so here is my latest addition to my stash. Some gorgeous Lorna's Laces in Lakeview. I'm thinking of trying
Pomatomus
by Cookie A.