So this is the first week of the Coffee Swap and we have been given the following assignment:
"Browse around some of the other blogs of participants, and find one person who enjoys a similar roast coffee to you - share something interesting about them that you find on THEIR blog, and tell us what you've been working on knitting or crochet-wise this week!"
I set to work scoping out other participants blogs and found that
Gaylen
likes a lighter roast coffee just like I do. But what really caught my eye was her sewing. Having a background in pattern making and design it immediately got my attention. I loved the skirts and tops she just made recently! When I went back to look at her blog again today I had to laugh, because she mentioned my name in her assignment! Great minds think alike perhaps? ha ha!
In terms of what's on my needles, I have the following:
- baby blanket for (BF)G's neice's baby (thankfully not born yet although her due date is in one week, so I really need to get cracking on that one!)
- Gathered Pullover, which I've grown bored of now that I'm hoping for spring to arrive
- Clementine shawl - although really, I'm not sure that I can count that as I've not worked on it since sitting on the lumpy bed, while icing my very swollen ankle, in my room in Huanchaco, Peru.
- Montego Bay scarf - which I was so completely excited about last week until I got the last parcel from Darcy which contained the loveliest sock yarn and pattern (do you see where this might be going???)
- and last but not least, I have just this morning cast on for the second sock of
Tiny Tulip
socks. They are my newest love. Take a look why!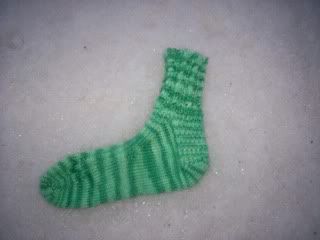 Isn't it pretty! It's the perfect spring sock, even on a bed of snow! I'll model them when I've got the pair done! :)