I am so happy to tell you that I finished my Tiny Tulip socks yesterday!!!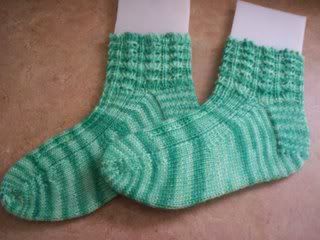 Pattern:
Tiny Tulips
Yarn:
Merino Tencel Blend - custom dyed by
Lizzie's Wonderland
350 yds I think, but there's oodles left over making this a great one skein pair of socks!
Started:
9:00pm Saturday, March 29th
Finished:
4:30pm Saturday, April 5th
Making these the fastest sock pattern ever!!!
Notes:
Only one mod - when I started the foot of the sock instead of knitting two stitches at the end of needle two, I k2tog so that I would have a symetrical reapeat of pattern - not necessary to the sock - just to my obsessive compulsive brain. I love this pattern! It fits absolutely perfectly! I always find that my hand knit socks end up a bit snug at the leg and a bit sloppy on the foot, but these ones turned out as if the pattern was written exactly for me! I can hardly wait to wear them today! :)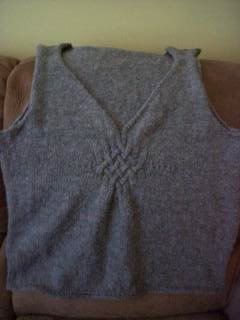 In other knitting news, I was working away on the baby blanket last night - baby's due any day, but I just found out the shower will be on April 27th so I've got some time. I'm 2/3 done and have suddenly in the last row dropped a stitch somewhere. Urrgghhh. It's going to be a challenge to spot it I think with this yarn! It's so fluffy. So this morning rather than face the search of the drop stitch I picked up my gathered pullover again. I only had a few rows to go to finish off the back, so off I went. Being stocking stitch my mind began to wander and when it stopped wandering I measured how much further I needed to go. I should really pay closer attention to what I'm doing because it ended up about four rows to much. So rip, rip, rip I went and then was able to quickly finish it off, seam it up and darn in all the ends. Now I just have the sleeves to do and the edging around the neckline. I tried it on with much trepidation because it looked sort of short and squat, but wouldn't you know it, apparently my upper body is also short and squat. It fits like a dream so far. We'll see what I manage to do to the fit once the sleeves are in, but so far so good!
Until next time... happy knitting!