The baby blanket is done! I think it looks cute. It's big and cuddly.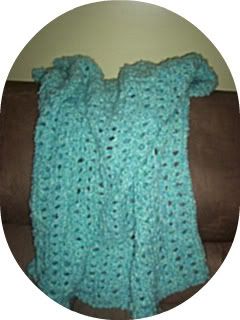 So in a matter of days I've knocked two WIP onto the FO list! I'm feeling mighty pleased with myself about the whole business! And to top it off, unlike two months ago or so when I was in an absolute scramble to finish the baby hoodie mere moments before leaving for the shower, the baby blanket is done ahead of time! I'm feeling somewhat smug, but really has nothing to do with me and everything to do with the fact that baby hasn't been born yet. Well - it's a first baby, due date was only yesterday, but the main thing is... I'm DONE!!!!!!!!!!!!!!!!!!! (Quick update! Between typing this post and actually getting around to taking the pic and posting to my blog, baby has now been born. Welcome to the world baby girl! Hope you like your blankie!)
Back to the project details now.  I'm trying to be good about including specs now when I show a finished project as I always appreciate that from others so here goes:
Pattern:
Knitted Angel Blanket
Yarn:
3 balls of Red Heart Baby Clouds in Seaspray (I think)
I knit the pattern as written, right down to the size.
Despite my trying to be stern and make myself finish my current WIP before starting something new, I failed miserably yet again. You see my downfall came when G was looking through my patterns last Friday and came across the Two-Toned Fitted Shrug from
Fitted Knits
. "Oh Mom! I love that! Oh I'd totally wear that all the time. It would be so great with my tanks. Then I could wear a tank top to school, but still have something covering my shoulders
(requirement of rarely enforced dress code).
I'd like in in black and grey." Well suffice it to say I folded like a cheap shirt and the next day was off to
Ram Wools
where they were having a sale. I decided to use Paton's Decor, which normally I wouldn't choose, but it'll be washable and the price was right. $8.40 got me the two balls required for this project. It's coming along quite quickly. No complaints so far. Maybe I can get it done by the end of the weekend for her! Then I'll go back to you my Gathered Pullover. Promise.