The other being Friday and therefore "Knit Night" I was able to do quite a bit of knitting. Not on any of my ongoing works in progress, but on an entirely new project and one that I wasn't even contemplating in my Ravelry queue list. So what happened? Well - my fickle self happened. I was going through my knitting files at work on Friday - yes. I do have a knitting file on my computer at work. Why you ask? Well in the winter when it's too cold to sit outside I take my break and lunch at my desk and obsessively search for patterns. Honest, just on my breaks. I swear. Ahem...
Anyways...
So I stumbled upon Artichoke Socks in my file and I thought what the heck are those? (I always delete the pictures when I'm copying and pasting into word from the Internet to print something) So I googled it and this is what I came up with.
Meg's Artichoke Socks
. And then I remembered seeing them on
Knittywhipped
. Go ahead click on the link to her blog. She has a definate way with words, which is what got me saving Artichoke in the first place.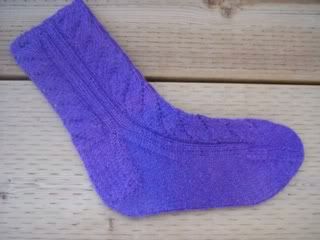 So too make a long story short, I started Artichoke Friday morning on my coffee break and got the whole first sock done by mid-afternoon yesterday. I am a third of the way into the second sock today. This is one fast pattern. It's super easy to memorize and seems to speed along nicely. My only complaint (and nothing to do with the pattern at all!) is my yarn. Now maybe it's just me, or maybe this is the way the yarn is supposed to be, but all of a sudden after turning the heel the colour of the yarn changed for about an inch and a half, then went back to being it's pretty purple self. I'm telling my self it's ok. No one will notice. If they're that close to my foot, well then that's their problem, but still. It's annoying and bugs my obsessive compulsive self. Not enough to rip it all out and start again or anything, but just enough to be kind of like a mosquito buzzing in your ear. Is this common for this yarn? It's JoJoland Superwash. Anyone had any experience with this? But the long and the short of it is, the pattern is super easy. The fit is great and what the heck, they still look pretty if I don't look at the weird splotch on the foot.
This weekend I also finished Summerlin. I'm so happy how the turned out! I LURVE them! The little girls got them yesterday and of course the mommies changed them right away to snap a picture. Poor Alex was drowning in her dress. I promised to make her a smaller size so she can wear hers this summer (rather than wait until she's about 10!) She's apparently alot tinier than I figured on. But the babies' dresses fit perfectly. So here's the three little cousins in their brand new dresses!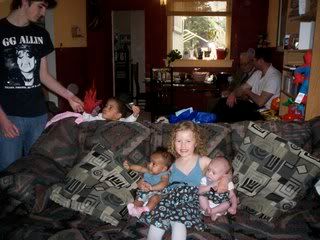 I also sat down at the ol' sewing machine to start working on my dresses. I've cut both out and had I not run out of brown thread - 300 spools of thread in this house and nary a brown one - I would have had a new frock to wear to work tomorrow, but alas... maybe in a couple of days!
I'm feeling great about how much I got done this weekend. Of course my house still looks a fright and there is clutter on every available flat surface in the house, but I got loads done creative wise, five loads of laundry washed and folded, and even took time to make a roast beef dinner complete with yorkshire puddings for supper tonight. I am queen of my world this weekend I tell you! Tomorrow reality shall hit and I'll once again be just a mere little cog in the machine that is called work, but for now, I shall relish in my accomplishments!